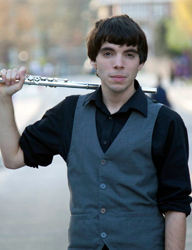 An active musician, Willie is involved in multiple facets of music including teaching, performing, and arts administration. He is a passionate arts administrator and serves as the concert coordinator for the Department of Music at the University of Maryland Baltimore County where he oversees the logistics of the department's concert series. He has made appearances with the chamber orchestra Symphony Number One as principal and assistant principal flute and actively performs in pit orchestras for various musicals and productions in the Baltimore-DC area.  He is the co-founder of Stranded Silver, a flute quartet based on the East Coast, and maintains an active schedule performing with them at conventions, schools, and featured concerts.  In addition to he maintains a private flute studio in Baltimore.
​As a strong advocate for contemporary music, Willie has premiered several compositions for concerts organized by the North Carolina NewMusic Initiative, he was a flute fellow at the 2017 Contemporary Performance Institute at the Composers Conference, and he has been involved in recording projects for commissioned works in Baltimore.  His most recent collaboration was with Symphony Number One to record Natalie Draper's Timelapse Variations on their third album and Martha Horst's Straussian Landscapes for fourth album Approaching.
​Willie's recent accolades include performances at the Mid-Atlantic Flute Convention, the National Flute Association's Annual Convention, and being named a finalist in the American Prizes' Professional Chamber Ensemble Division with Stranded Silver.  Willie also won third place in 2015 at the Hampton Roads Flute Faire's Collegiate Division Competition, in 2014 he placed third at the Emerging Artist Competition at the International Flute Symposium at West Virginia University, and was a flute apprentice at the National Music Festival in 2014.
Willie received his M.M. in Flute Performance from East Carolina University and his B.M. in Music Education with Performance Honors from Syracuse University. He has performed in masterclasses for Nina Assimakopoulos, Mario Caroli, Ian Clarke, Bradley Garner, Gary Schocker, and Jim Walker and has studied with Kelly Covert, Christine Gustafson, and Lisa Cella.
Contact
---
Office:  410-455-2943
Room:  PAHB 238
williers@umbc.edu
Education
---
B.M. in Music Education, Syracuse University (2013)
M.M. in Flute Performance, East Carolina University (2015)