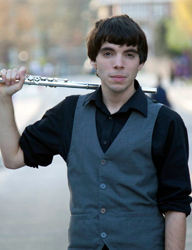 Willie Santiago is the concert manager for the music department at UMBC. After providing 6 years of administrative and technical support for Syracuse University and East Carolina University, both as a student and graduate assistant, he is excited to be coordinating the various performances and events the department organizes. His primary responsibilities to the department entail overseeing the logistics for all events the department hosts, managing their web media, and training students to staff concerts.
Outside of event coordinating, Willie is a freelance flutist based in the Baltimore area and is one of the co-founding members of Stranded Silver, a flute quartet based in Eastern North Carolina. Their goal as an ensemble is to push the limits of flute quartet literature and provide thrilling performances through the inclusion of other art forms and media. Willie is a strong advocate for contemporary music and has performed with his quartet and other chamber ensembles at several concerts organized by the North Carolina NewMusic Initiative. He has also had the opportunity to collaborate with several young composers in North Carolina on pieces written for solo flute, flute and electronics, flute and contemporary dancers, and various chamber ensembles.
Willie received his B.M. in Music Education from Syracuse University and he received his M.M. in Flute Performance from East Carolina University. His most influential teachers include Kim Collins, Kelly Covert, and Dr. Christine Gustafson.
Contact
---
Office:  410-455-2943
Room:  PAHB 238
williers@umbc.edu
Education
---
B.M. in Music Education, Syracuse University (2013)
M.M. in Flute Performance, East Carolina University (2015)