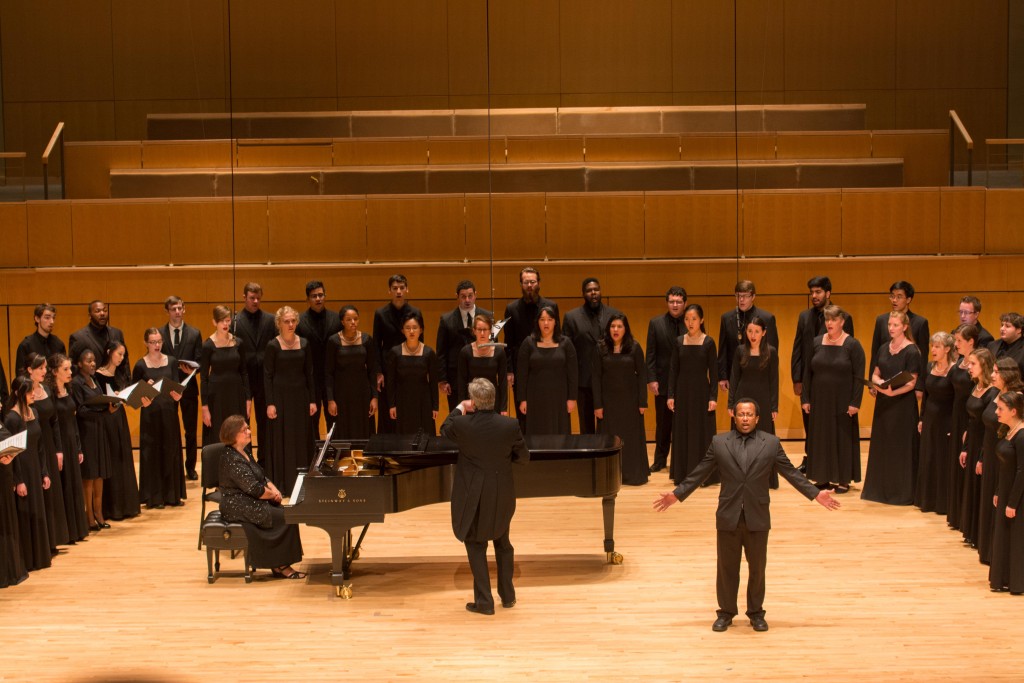 Students in the Vocal Performance major receive a solid grounding and experience in solo and ensemble music with texts in the major European languages. Supported by a community of faculty, staff, and colleagues, singers expand their horizons as scholar-artists through private lessons, weekly performance opportunities, master classes, and the study of ensemble literature.
Courses in singing are designed to teach students how to perform healthfully, beautifully, and musically with their vocal instrument in the western musical art tradition. Throughout the semester singers in the Department perform numerous pieces from memory and in the style appropriate to the literature studied. Each component of the Vocal Performance curriculum aims to expose students to the many genres of sung art from the classical music tradition: folk song, Italian monody, British lute song, German lied, French mélodie, and opera aria, as well as solo excerpts from the operetta, oratorio, mass, and cantatas repertoire.
Faculty
---
Stephen Caracciolo, D.M. (bass-baritone)
Lisa Dodson, M.M. (soprano)
Janice Jackson, M.M. (mezzo-soprano)
Lorriana Markovic, D.M.A. (soprano)
Core Music B.A. Requirements
---
Music Theory

Catalog Number

Course Name

MUSC 125
Theory I: Basics of Music [3]
MUSC 126
Theory II: Harmony and Voice Leading [3]
MUSC 225
Theory III: Counterpoint [3]
MUSC 226
Theory IV: Expanded Harmony [3]
MUSC 227
Theory V: 20th Century Analysis [3]

Musicianship Lab

MUSC 110
Musicianship Lab [1]
MUSC 111
Musicianship Lab II [1]
MUSC 210
Musicianship Lab III [1]
MUSC 211
Musicianship Lab IV [1]
A grade of "B" or better is required for MUSC 211

Keyboard Skills

MUSC 178-A
Beginning Keyboard Skills Class [1]
MUSC 178-B
Beginning Keyboard Skills Class [1]
MUSC 179-A
Intermediate Keyboard Skills Class [1]
MUSC 179-B
Intermediate Keyboard Skills Class [1]
Or demonstrated piano proficiency.
A grade of "B" or better is required for MUSC 179-B.

MUSC 191

Eight semesters of MUSC 191 – Recital Preparation [8]

Music History

MUSC 230
Musics of the World [3]
MUSC 321
Music History I [3]
MUSC 322
Music History II [3]

Conducting

MUSC 380
Introduction to Conducting [3]

Upper Division Classes

MUSC 480
Music, Art and Society [3]
Or
MUSC 485
Selected Topics in Music History [3]
MUSC 485
Selected Topics in Music History [3]
One elective – upper level, in Music or VPA [3]Note: Performance majors are required to take as their upper-level elective core requirement either MUSC 362: Arts in Education or MUSC 400 Special Projects in Pedagogy.
Core Vocal Performance Requirements

---
In addition to the core courses listed above, students must complete the following major requirements.
Vocal Performance Core

Catalog Number

Course Name
MUSC 193
Performance Studies for Music Majors – Four semesters of individual performance studies at 3 credits each [12]
MUSC 161-163
Diction – Three semesters [3]
MUSC 390
Performance Studies for Music Majors – Four semesters of individual performance studies at 3 credits each [12]
MUSC 300-MUSC 310
Ensembles – Eight semesters of ensemble participation. Participation in either Camerata or Opera Workshop at least 2 semesters is required [16]
Junior Recital
Senior Recital