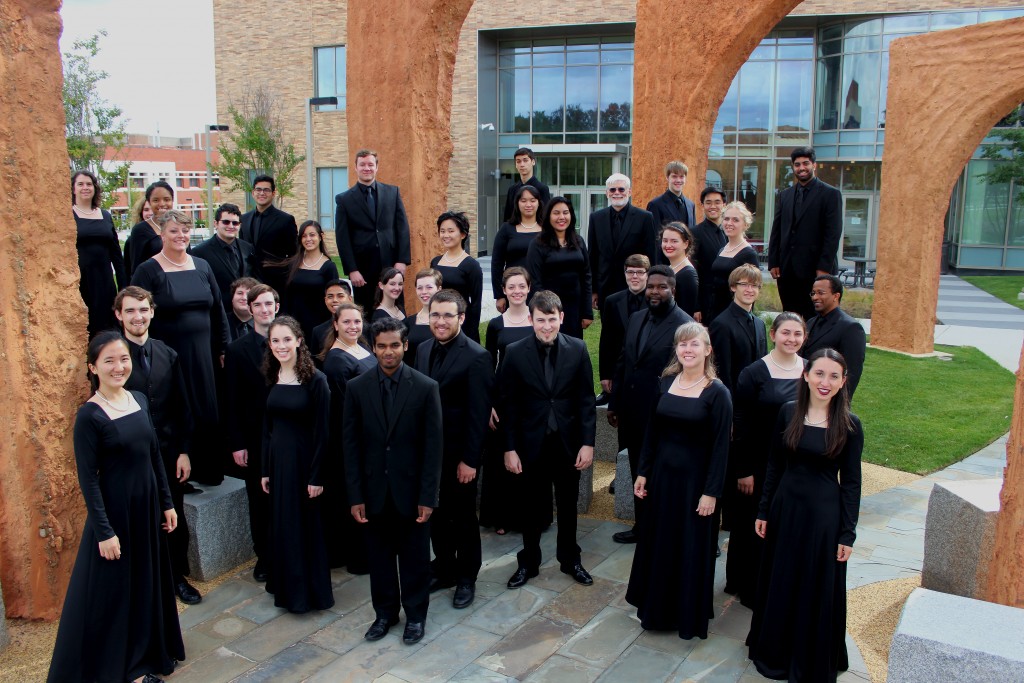 The UMBC Camerata is a mixed, auditioned chamber choir that consists of musicians across the university and community. Camerata performs an eclectic repertoire including but not limited to: canonic repertoire from the Western tradition, pop a cappella, BIPOC composers, and works that address issues such as racism, LGBTQIA+ rights, and mental health. Camerata has also performed choral masterworks with the Handel Choir of Baltimore and the Howard County Concert Orchestra.
In addition to their musical talents, the Camerata seeks to be an ambassador for the university. As a vocal collective of diverse perspectives, the Camerata aims to use our voice to engage and to make meaningful connections that positively impact the local and surrounding community.
Upcoming Concerts
---
Friday December 9, 2023 7:30 pm (Linehan Concert Hall)
Ensemble Information
---
Carlin Truong, Director
When does Camerata (MUSC 303) rehearse?
Tuesdays & Thursdays 1:00pm – 2:15pm in Linehan Concert Hall
Prospective students, groups, and guests are always welcome in rehearsal. Please contact Professor Truong so he can have a music binder prepared for you.
Who should audition for Camerata?
All members of the UMBC community are welcome and encouraged to audition for the Camerata, including undergraduate and graduate students from all majors, faculty, staff, alumni, and members of the local community.
Camerata may be a good fit for you if you have:
Previous experience singing in choirs
An openness to explore a variety of vocal genres and languages
A passion to be an active member of an ensemble that values collaboration, diverse perspectives, and individual ownership
The willingness to practice independently outside of class and improve music literacy skills
A desire to share your musical talents to make a meaningful impact in the community
When are placement auditions for Camerata held and how do I sign up for a time?

Placements will be determined in the first two weeks of the Fall semester. If interested in auditioning, please email the director, Professor Truong.
During placements, you will:
Fill out a Google Form that asks about general information and your choral experience
Sing through some vocalises to get a sense of your vocal range
Perform 1–2 minutes of any piece best represents your vocal abilities a cappella. It can be an art song, jazz standard, something you're working on in studio lessons, or your favorite song on Spotify, etc.
Sight-sing a small excerpt to get a sense of your current music reading level.
UMBC Music Performance Fellowships
Vocalists in their first year (transfers included) at UMBC are eligible for UMBC Music Performance Fellowships. These fellowships are awarded based on merit to students in any major. Students awarded this fellowship will have their private lesson fee waived as long as they enroll and perform with Camerata for the duration of their award. Please express your interest in fellowships during your placement.
What are the additional things for which Camerata members are responsible?

1. Musical scores. They will be purchased from Professor Truong at the beginning of the semester at a cost of around $25.
2. Concert Attire will be determined at the start of the semester.