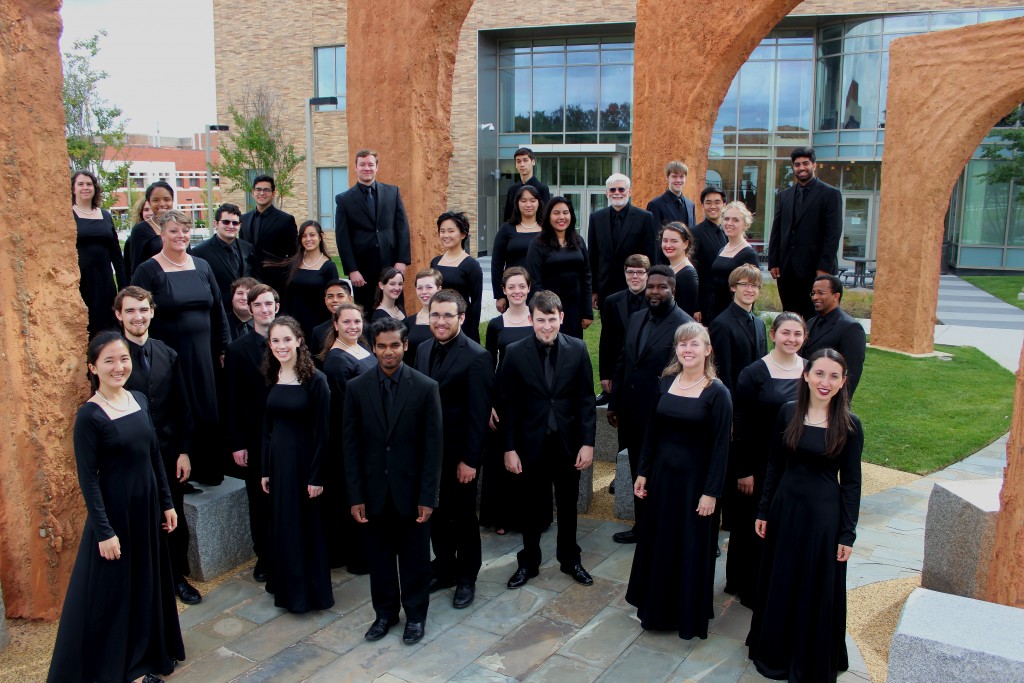 A small choral ensemble consisting of 26 auditioned singers from across the university. Camerata performs a wide variety of works drawn from the expansive choral repertoire: including Renaissance motets and madrigals, folksongs, choral-orchestral works, German part songs, Russian sacred liturgies, American spirituals, and new works. In previous seasons Camerata has performed with the Handel Choir of Baltimore as well as the Howard County Concert Orchestra.
Ensemble Information
---
When does Camerata rehearse?
Tuesdays and Thursdays 1:00 – 2:15
All rehearsals are held in the beautiful Linehan Concert Hall located in the Performing Arts and Humanities Building.
Who should audition for Camerata?
Any UMBC undergraduate or graduate student with significant choral experience, music reading skills, a commitment to expressive singing, and a creative imagination.
If you like to sing in a variety of languages; if you enjoy the challenge of studying literature that searches for beauty and truth and is inclusive of many traditions, styles, and eras from cultural history; if you enjoy rehearsing and performing with others who share your passion for the art of choral singing, then Camerata is for you and you are encouraged to audition for one of the following seats in the ensemble:
8 sopranos
6 altos
6 tenors
6 basses
(Safe social distancing practices will be in place. We will know more about UMBC protocols in August. We hope to have a largely "regular" semester.)
What are the additional things for which singers are responsible?
Sopranos and Altos are required to purchase a Music Department black performance dress and pearl necklace. The cost is approximately $76. Information on ordering and payment will be supplied the second week of the semester. Tenors and basses are required to own a black suit, a solid black silk necktie, a dress white shirt, a black belt, and black dress shoes.
In addition, all singers are required to purchase scores from the UMBC Bookstore in time for the first rehearsal. Semester packets are typically no more than $25 or so.