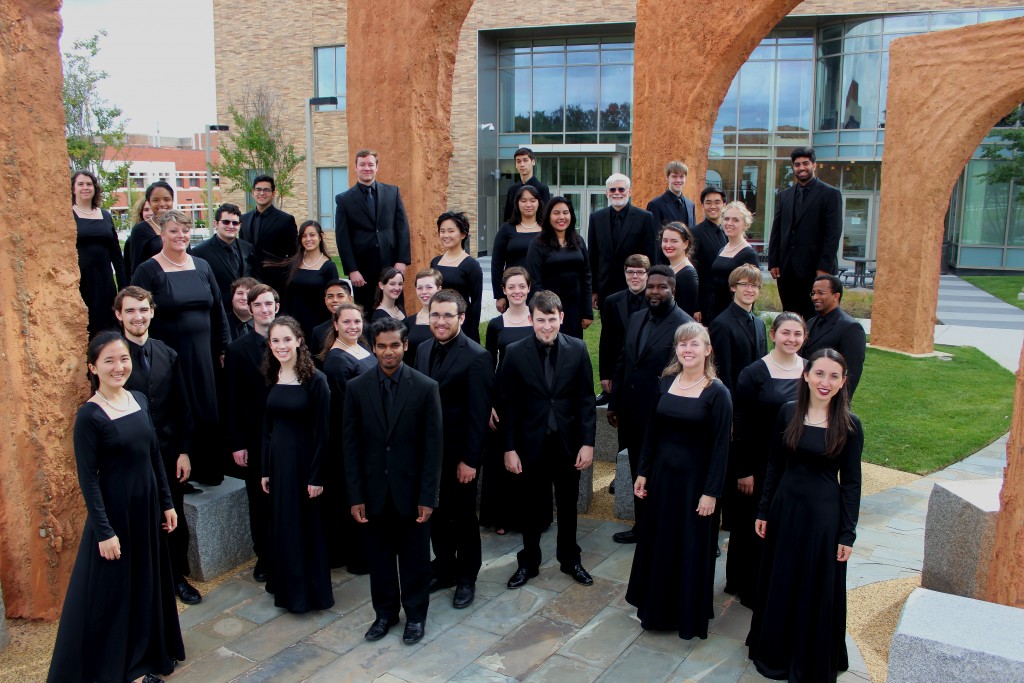 A large choral ensemble consisting of 50-70 auditioned singers from across the university and Central Maryland, Camerata performs a wide variety of works drawn from the expansive choral repertoire: including Renaissance motets, folksongs, choral-orchestral works, German part songs, Russian sacred liturgies, American spirituals, and new works. In previous seasons Camerata has performed with the Handel Choir of Baltimore as well as the Howard County Concert Orchestra.
Visitors are welcome to observe or sing rehearsals held on Tuesdays and Thursdays, 1:00-2:15 and Wednesdays 7:30-9:00 in the Linehan Concert Hall.
Upcoming Concerts
---
Spring Performance:
The Song of Creation
Featuring Paul Winter's Missa Gaia (Earth Mass)
with UMBC Jazz Combo and special guest, Matthew Belzer, soprano saxophone
Stephen Caracciolo, conductor
Saturday May 9, 2020 8:00 p.m. 
Earl and Darielle Linehan Concert Hall embedded link
Performing Arts and Humanities Building
Non-ticketed event
Free parking surrounding the venue
In the Beginning (from The Creation) – Franz Joseph Haydn
The Heavens Are Telling the Glory of God (from The Creation) – Franz Joseph Haydn
A Song of Creation – Stephen Caracciolo
Alles was Odem hat lobe dem Herrn (All that has life, praise the Lord) – J.S. Bach
INTERMISSION
Missa Gaia (Earth Mass) – Paul Winter
with inserted chants, anthems, and recorded sounds of the wild
Canticle of Brother Sun                                                                                                  
Kyrie
Adoro te devote (Gregorian chant)
Agnus Dei
The Blue Green Hills of Earth
Sound Over All Waters – Paul Halley (anthem)
Ubi caritas – Paul Haley (Gregorian chant and African chant juxtaposed)
Let Us Go Forth in Peace
O Sifuni Mungu (All men, all creatures, everybody, praise the Lord!) – David Maddox
with African drums
Ensemble Information
---
When does Camerata rehearse?
Tuesday 1:00 – 2:15: Tenor and Bass students
Wednesday 7:30 – 9:30: All students and community singers
Thursday 1:00 – 2:15: Soprano and Alto students
All rehearsals are held in the Linehan Concert Hall located in the Performing Arts and Humanities Building. Visitors are welcome. Free parking on Wednesday evenings.
Who should audition for Camerata?
Any UMBC undergraduate or graduate student with significant choral experience, music reading skills, a commitment to expressive singing and a creative imagination. In addition, UMBC faculty and staff, as well as Camerata alumni and other singers living in the Central Maryland region with significant choral experience, strong vocal ability, and reading skills are urged to audition.
What are the additional things for which singers are responsible?
Sopranos and Altos are required to purchase a Music Department black performance dress and pearl necklace. The cost is approximately $76. Information on ordering and payment will be supplied the first week of the semester. Tenors and Basses are required to own a black suit, a solid black silk necktie, a dress white shirt, a black belt, and black dress shoes. In addition, all singers are required to purchase scores from the UMBC Bookstore in time for the first rehearsal. Semester packets are typically no more than $25 or so.
Students register for Camerata and there is no additional course fee. Community members pay a $150 Chorus Fee each semester.
Will singing in Camerata satisfy an Arts and Humanities General Education Program (GEP) requirement?
Yes, if for one semester you register for Music in Performance (MUSC 358) instead of Camerata (MUSC 303). Music in Performance consists of your ensemble rehearsal times plus a one-hour, once-a-week lecture course that introduces students to important topics in music performance and criticism.
MUSC 358, therefore, is a combined class and grade between Camerata and your work in the lecture portion of the course. All First-Year students who are seated in a Department of Music ensemble, including majors in music, are strongly encouraged to register for MUSC 358.
I am a student in the Honors College at UMBC. Is there an Honors section for Camerata in which I may enroll?
Yes, it is Camerata (MUSC 303H). This Honors section is a 3-credit course. Students research the literature Camerata is studying, prepare short presentations for class, and turn their research into program notes for the printed concert program. Honors students may enroll as many times as they wish in MUSC 303H, but only one of those semesters, of course, will satisfy the requirements of the Honors College.