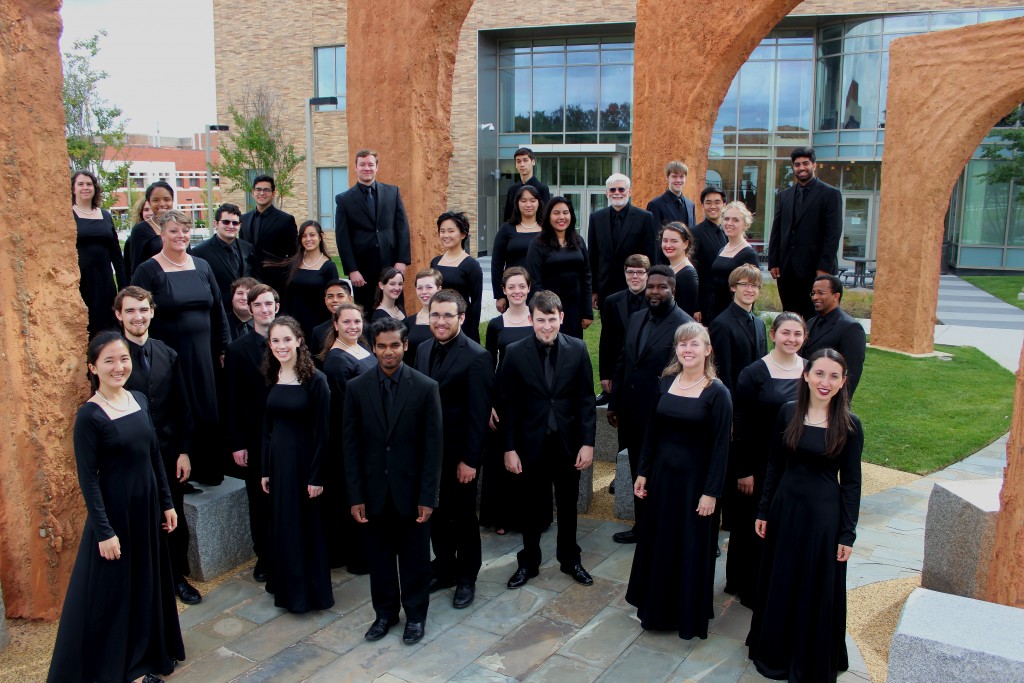 A select choir of 40-50 singers drawn from all majors of the university, Camerata performs a wide variety of works drawn from the expansive choral repertoire: including Renaissance motets, folksongs, choral-orchestral works, German part songs, Russian sacred liturgies, American spirituals, and new works. In previous seasons Camerata has accepted invitations to perform with conductor-composer John Rutter at Carnegie Hall and has provided entertainment for guests touring the White House during the holiday season.
Visitors are welcome to observe or sing rehearsals held on Tuesdays and Thursdays, 1:00-2:15 in the Linehan Concert Hall.
Upcoming Concerts
---
Sunday December 3, 2017, 8:00pm (Linehan Concert Hall)
Sunday April 29, 2018, 4:00pm (Linehan Concert Hall
Ensemble Information
---
When does Camerata rehearse?
Tuesday and Thursday, 1:00-2:15 in the Linehan Concert Hall located in the Performing Arts and Humanities Building. Visitors are welcome.
Who should audition for Camerata?
Any UMBC undergraduate or graduate student with significant choral experience, music reading skills, a commitment to expressive singing and a creative imagination.
What are the additional things for which students are responsible?
Ladies are required to purchase a Music Department black performance dress. The cost is approximately $68. Information on the dress will be supplied the first week of the semester. Men are required to own a black suit, a solid black silk necktie, a dress white shirt, a black belt, and black dress shoes. In addition, students are required to purchase scores from the UMBC bookstore in time for the first rehearsal. Semester packets are typically no more than $25 or so.
Will singing in Camerata satisfy an Arts and Humanities General Education Program (GEP) requirement?
Yes, if for one semester you register for Music in Performance (MUSC 358) instead of Camerata (MUSC 303). Music in Performance consists of your ensemble rehearsal times plus a one-hour, once-a-week lecture course that introduces students to important topics in music performance and criticism.
MUSC 358, therefore, is a combined class and grade between Camerata and your work in the lecture portion of the course. All First-Year students who are seated in a Department of Music ensemble, including majors in music, are strongly encouraged to register for MUSC 358.
I am a student in the Honors College at UMBC. Is there an Honors section for Camerata in which I may enroll?
Yes, it is Camerata (MUSC 303H). This Honors section is a 3-credit course. Students research the literature Camerata is studying, prepare short presentations for class, and turn their research into program notes for the printed concert program. Honors students may enroll as many times as they wish in MUSC 303H, but only one of those semesters, of course, will satisfy the requirements of the Honors College.