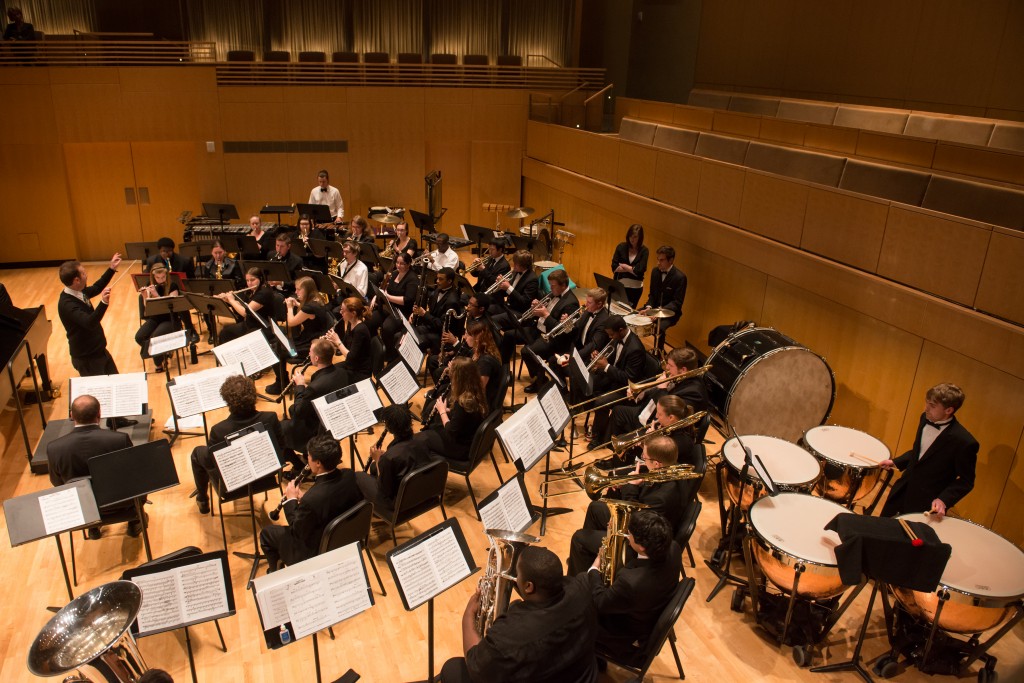 The UMBC Wind Ensemble has pioneered a new vision for the wind ensemble in the 21st century. Performing wind ensemble classics, world premieres of contemporary works, spoken word pieces, popular songs, collaboratively composed originals, and music with cultural influences from around the world, the group regularly collaborates with community partners to engage audiences in pressing social issues through music, multimedia, and discussion. The UMBC Wind Ensemble has celebrated performances with internationally recognized guest artists including Glee pianist and music director Brad Ellis, Emmy-nominated composer and genre-bending violinist Daniel Bernard Roumain, The American Brass Quintet, singer-songwriter Diana Lawrence, Canadian Brass veteran Joe Burgstaller, international tuba artist Oystein Baadsvik, Cleveland Orchestra trombonist Shachar Israel, Marine Band co-principal oboe Trevor Mowry, former Marine Band clarinetist Randall Riffle, and UMBC Professor of Violin Airi Yoshioka. The ensemble seeks to regularly commission and perform music by living composers. Their premiere performance of Samuel Winnie's Nightfall in Lothlorien was a finalist for the 2016 American Prize Ernst Bacon Memorial Award. Filtering, released on the Albany label in April 2022, is the ensemble's debut album.
Membership is open to any student (music major or non-major) or community member by audition. Please contact Professor Brian Kaufman for further information (brian.kaufman@umbc.edu)
Upcoming Concerts
---
Monday, March 7, 2022 8:00pm (Linehan Concert Hall) – Brass Bash featuring Nathan Warner
Tuesday, May 10, 2022 8:00pm (Linehan Concert Hall)
Ensemble Information
---
Brian Kaufman, director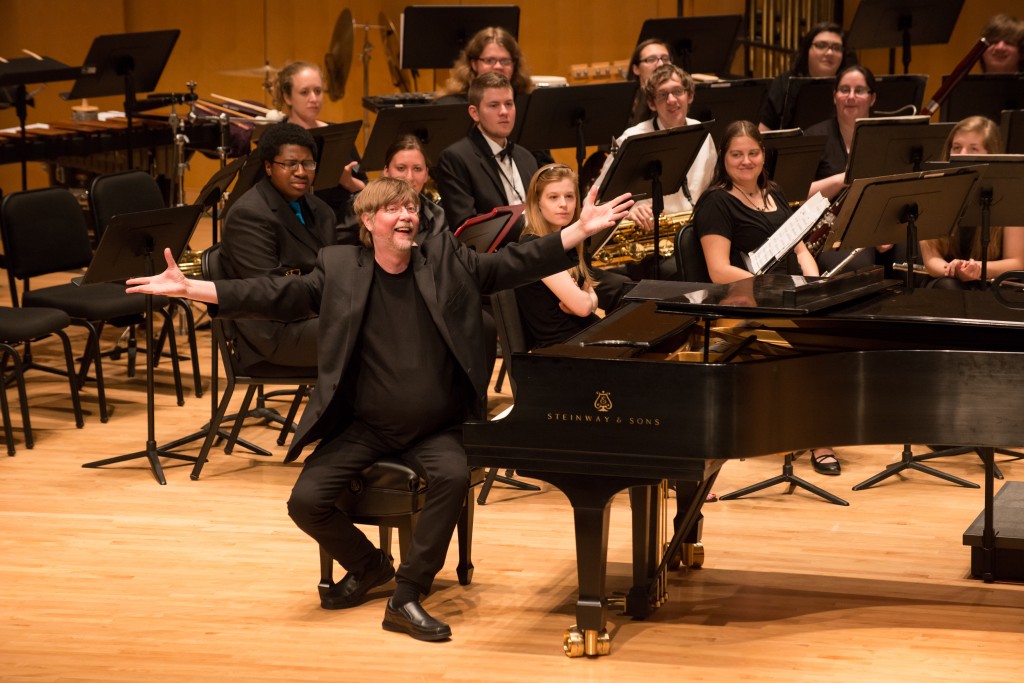 When does Wind Ensemble rehearse?
Monday, 7:00-10:00pm in the Linehan Concert Hall of the Performing Arts and Humanities Building.
Who should audition for Wind Ensemble?
The UMBC Wind Ensemble is open to both music majors and non-majors with advanced experience on their instrument.
When are auditions for Wind Ensemble held and how do I sign up for a time?
Auditions are held in the first week of both Fall and Spring semesters. Please see the Wind Ensemble Audition page for details.
Debut Album
---
Filtering, the debut album of the UMBC Wind Ensemble was released on April 1, 2022 on the Albany label! Featuring world premiere recordings of works by Daniel Bernard Roumain, Brad Ellis, UMBC alum Samuel Winnie, and UMBC faculty members Anna Rubin and Janice Macaulay.
Donate $50 or more to the UMBC Wind Ensemble and receive as a gift a physical CD of the album signed by the conductor. Your support will allow students in the wind ensemble to benefit from new, exciting, and ambitious projects in the future.
How to give to the UMBC Wind Ensemble:
Go to support.umbc.edu
Choose your donation amount and the schedule for your gift
Under "Select My Designations", scroll down to Music and "check the box". Click "Continue"
Complete the about you section.
IMPORTANT: Check the last box titled "Additional Comments"; in the "Comments About Your Gift" section write "For the UMBC Wind Ensemble." This is needed for your donation to get to the wind ensemble and for us to be able to send you the CD gift.
Complete the rest of the requested information as directed. Review and Finalize your gift. Thank you!!!
OR purchase the album on Amazon (HERE) or on any other major streaming service.