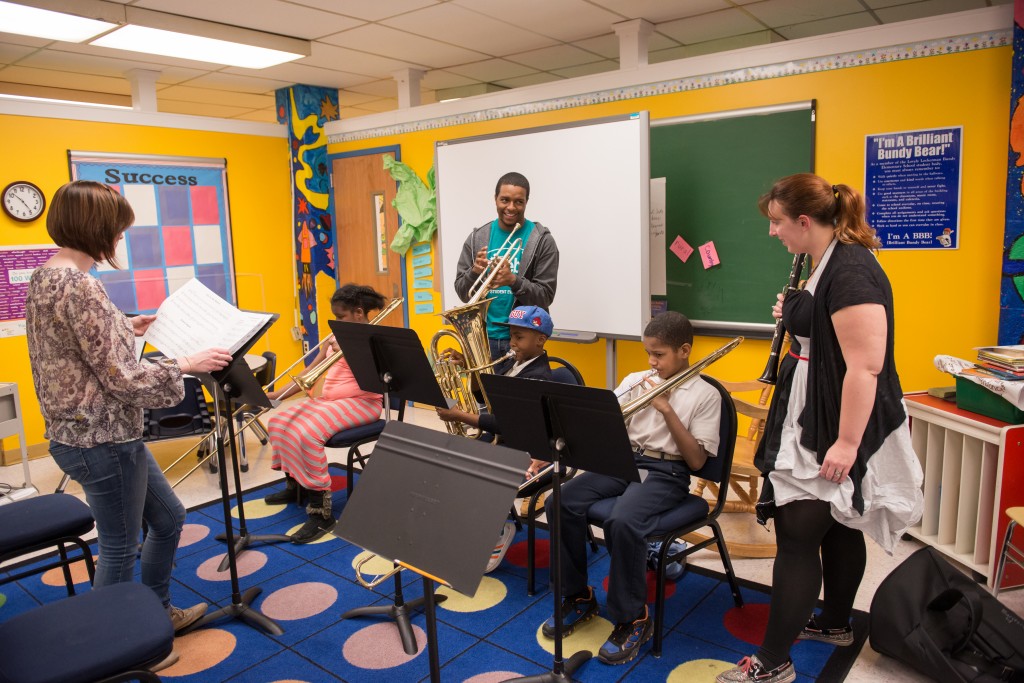 Rooted in the belief that we learn the most through firsthand EXPERIENCE, UMBC instrumental music education majors gain classroom teaching experience in every semester they attend UMBC and engage with INNOVATIVE PRACTICES designed for 21st century classrooms. One of the most TRANSFORMATIONAL experiences for students, a hallmark of the program, is a weekly service-learning internship throughout students' 1st and 2nd years at UMBC that takes place in Baltimore City schools in partnership with the Baltimore Symphony's OrchKids program. The opportunity to intern for TWO YEARS alongside peer music education students at one site with a master teacher and UMBC faculty is a UNIQUE opportunity within higher education that enables UMBC's aspiring instrumental music teachers to:
gain deep insights into REALITIES of the day-to-day of music classrooms that stretch UMBC students in ways that lay a more comprehensive foundation for teaching than standard, short-term teaching experiences in beginning coursework at most other institutions
build meaningful RELATIONSHIPS with young people that lead to more impactful teaching and learning opportunities for UMBC students and the young people with whom they work
engage with new perspectives with our DIVERSE COMMUNITY of teachers and learners, including music education faculty, certified in-school teachers, teaching artists, peer music education teaching interns, and young people;
develop new ideas through engaging with CULTURALLY-RESPONSIVE APPROACHES that support social justice and youth development through music learning—approaches that support the artistic, social, and cognitive growth of young people and reflect concepts that can be applied in a variety of 21st century learning contexts
This REAL-WORLD WORK EXPERIENCE allows UMBC students to positively contribute to the Baltimore community, demonstrating our shared VALUE FOR SERVICE, while substantially expanding their resume with two years of classroom teaching intern experience. Students further gain experiences in individual music classroom internships in other coursework that give them experiences in an array of Maryland schools—most often in Baltimore County, Howard County, Anne Arundel County, and/or Montgomery County. In their final year, aspiring music educators typically split their time between two schools of different levels based on their interests and aspirations; the year begins with observation and gradually expands to a full-time teaching internship in the spring semester. All in all, time in classrooms provides SUBSTANTIAL PREPARATION that SUPPORTS the SUCCESS of UMBC music teacher alums as they enter and advance through the profession. UMBC graduates not only support K-12 students in learning about music, but also promote creativity, celebrate student voice, connect with communities and our world, and have an IMPACT on students' lives.
In addition to our EXCEPTIONAL FACULTY, who are all practicing teachers and active performers, students are exposed throughout the degree program to many LEADERS who share the latest INNOVATIONS in the fields of music and education; past guest speakers have included leaders from major institutions including the U.S. Department of Education, International Society for Music Education, Carnegie Hall, NPR's from the Top, and Americans for the Arts. Program graduates are currently employed as teachers in counties across the state of Maryland and beyond, including recent graduates as far as California and South Korea.
Further, students benefit from A WEALTH OF OPPORTUNITIES TO PERFORM and develop as artists through a wide range of large ensemble, chamber, and solo opportunities in a diversity of styles and genres. UMBC students value the opportunity to follow their interests and EXPLORE different performing opportunities that expand their thinking as Citizens, Artists, Teachers, and Scholars (CATS).
To view the academic requirements for this degree, please visit the academic catalog.
Faculty
---
Brian Kaufman, M.M., Conducting, Internship Supervision
Michael Martin, M.M., K-12 Instrumental Methods
Yoshi Horiguchi, M.M. String Methods
Airi Yoshioka, D.M.A., Arts in Education
Joseph Siu, Ph.D., Music Theory, Keyboard Skills
Don Johns, M.M., Percussion Methods
Krystal Williams, M.A., Woodwind Methods
James Dorsey, M.E., General Music Methods
Bri'Ann Wright, M.M., Popular Music Pedagogy
Angelica Brooks, M.M., Music Education Program Design & Management
Elizabeth Palmer, D.M.A., Secondary Instrumental Methods