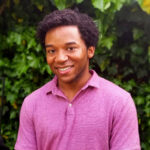 James Dorsey, NBCT, is an artist and educator from the Maryland/DC area. He primarily serves as an elementary vocal/general music teacher in Prince George's County Public Schools (PGCPS).
Dorsey believes in the partnership of students and teachers to grow as they respond to critical topics of our world.  In his care, young learners investigate concepts like change, identity, social justice, and expression as they engage in a creative process. He promotes equity through the constant engagement with topics and processes that allow people of all backgrounds and identities to enter into learning.  His commitment to social justice is through nurturing diverse perspectives when responding creatively.
His students' products and processes include original music and accompanying videos, original stage productions combining student-created dance, drama, and media arts, and student portfolios that reveal their creative process: all of which express a big idea.
He has supported his school as an arts integration partner lead teacher. Dorsey helps teachers develop their capacity to lead creative experiences for their students, especially in traditionally non-arts learning spaces (reading, math, etc.).  He was awarded a grant from Crayola to fund a school-wide arts integration initiative and multiple grants from Bowie State University for action research in arts integration.  He worked with student teachers and young students to explore how creative responses involving non-arts subjects deepens understanding of all connected subjects.
Dorsey has served as a music curriculum writer and assessment teacher leader. He mentors student and newly practicing teachers through the University of Maryland, College Park and PGCPS.  Through his work with Maryland Centers for Creative Classrooms, he helps educators cultivate creativity in their personal and professional practice. He has facilitated similar learning as instructor and/or guest artist for courses with Loyola University Maryland, University of Maryland, College Park, and Towson University.  He has also led collaborative curriculum/project planning with Prince George's and Queen Anne's Counties, and Baltimore City Schools.
Dorsey earned a B.A. in Music (UMBC, 2005), M.Ed. in Kodály Music Education (Loyola University Maryland, 2015), and National Board Certification (Music, 2013).  A chapter member of the National Association for Music Education and the Organization of Kodály Educators, he was recently recognized as an Outstanding Music Educator by the Maryland Music Educators' Association.
James believes everyone deserves opportunities to respond to the world creatively, and welcomes opportunities to share and learn with the UMBC community.
Teaching
---
Affiliate Artist
General Music Methods
Education
---
Masters of Education in Kodaly Music Education — Loyola University Maryland
Bachelor of Arts in Music (Vocal Performance & Music Technology) — University of Maryland Baltimore County (UMBC)