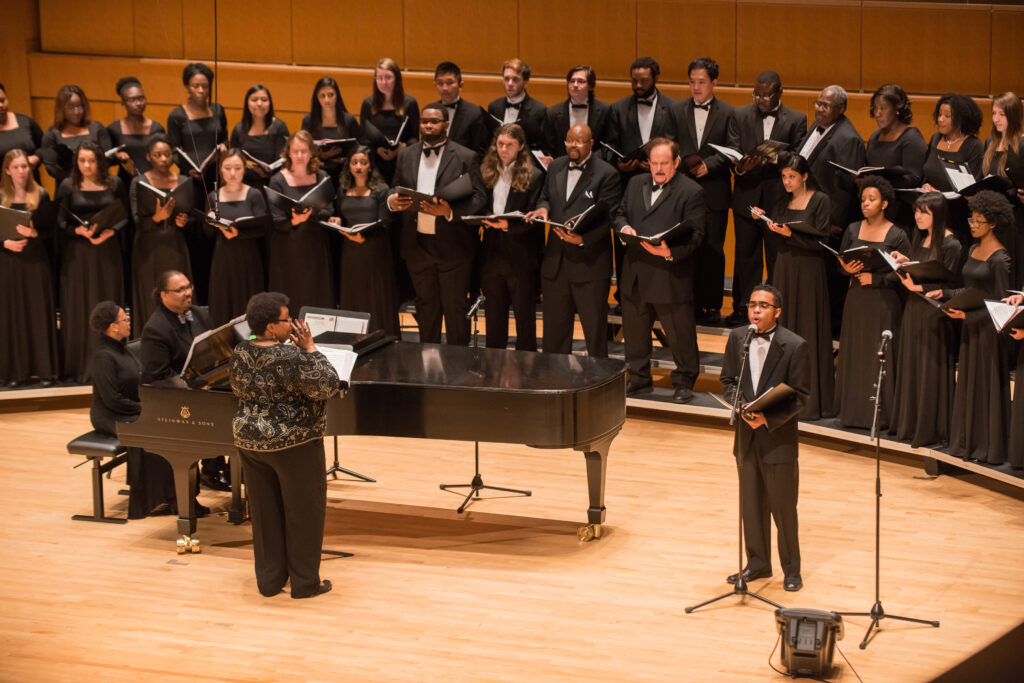 Upcoming Concerts
---
Saturday December 2, 2023 5:00 pm (Linehan Concert Hall)
Ensemble Information
---
The Jubilee Singers was formed in 2001 with 20 selected members of the UMBC Gospel Choir. It is a two-credit course, developed to enhance the UMBC choral program through the promotion of excellence and specializing in sacred music with an emphasis in music by African-American composers i.e., Undine Moore, Moses Hogan, John Works. Jubilee performs Anthems, Spirituals, Hymns, Gospels, as well as works by Mozart, Bach, Beethoven, Brahms and other classical composers.
The choir made its debut performance in December, 2001, with great success and continues to celebrate music to audiences who appreciate them with standing ovations. The choir currently has 40 members.
Recent performances include concerts at Providence Baptist Church in Baltimore, Maryland, the Charlestown Chapel, in Catonsville, Maryland, Concert Tours in St. Thomas, Virgin Islands and Tortola, British Virgin Islands, Emmanuel United Church of Christ in Hanover, Pennsylvania and Christian Community Church of God, Baltimore, Maryland.
The choir performs annually at the W.E.B. Dubois Lecture sponsored by the Africana Studies department at UMBC.   The Jubilee Singers have joined with the UMBC Maryland Camerata in a weekend of Opera, and performed excerpts of "Treemonisha" by Scott Joplin, with guest artist Carmen Balthrop, as well as excerpts of Gershwin's "Porgy and Bess". The choirs have also performed Vivaldi's "Gloria" together with the UMBC Symphony Orchestra.
When does Jubilee rehearse?
Monday and Wednesday 5:15-6:30 in the Linehan Concert Hall. Visitors are welcome anytime.
Who should audition for Jubilee?
Any UMBC student with significant choral or gospel choir experience, and a commitment to expressing sacred music is welcome.
Additional Information
Tenors and basses in Jubilee are responsible for owning a black tuxedo; sopranos and altos, a black Department of Music gown. Information on concert attire will be provided at the beginning of each semester. Musical scores will be purchased from Prof. Jackson at the beginning of each semester at a cost of around $20.
Will singing in Jubilee satisfy my Arts and Humanities requirement for graduation?
Yes, if for one semester you register concurrently for MUSC 358-04 Music in Performance I, a one-hour, one a week lecture course that introduces students to important topics in music performance and criticism. Ask your advisor for more details.
Jubilee Auditions
Jubilee is an auditioned ensemble. Individual meeting times with the conductor are brief and informal. Please email Prof. Jackson (Jackson@umbc.edu) to make an appointment.