B.A. in Music Composition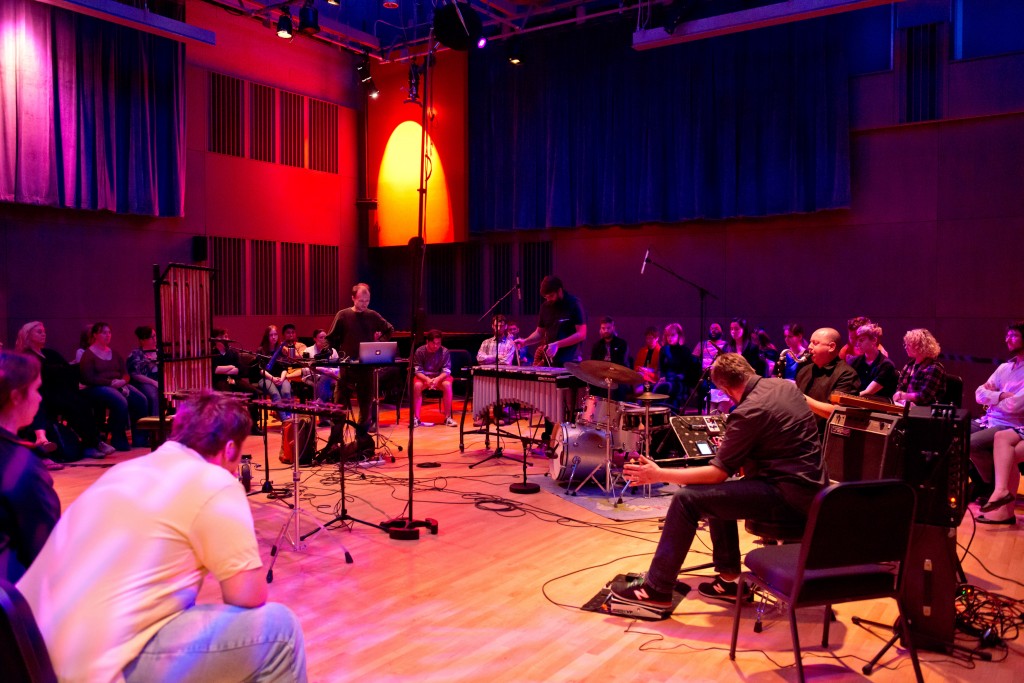 The composition department provides a diverse and highly individualized foundation for students aspiring to build careers in composition with opportunities to create music for the stage, as well as collaborate with their fellow students in film, video and gaming. All new works composed by student composers receive workshops and performances by either students or professionals, and all are professionally recorded. Coursework involves a year of composition classes, including an introduction to electronic music. This is followed by private lessons in which students compose the program for their senior recital.
Most of the full-time faculty specialize in contemporary music performance, and collectively they have premiered thousands of works in their careers. They often mentor or coach performances of student composers' pieces. The annual Livewire Festival of Contemporary Music is always a highlight of the year and features professional and student compositions.
Composition students work collaboratively to produce concerts of their works at UMBC and learn practical entrepreneurial skills to promote their careers. Master classes with guest composers augment the curricula and give students a broad perspective on the rich and varied musical culture of the twenty-first century.
Faculty
---
Linda Dusman, D.M.A
Anna Rubin, Ph.D.
Core Music BA Requirements
---
Music Theory

Catalog Number

Course Name

MUSC 125
Theory I: Basics of Music [3]
MUSC 126
Theory II: Harmony and Voice Leading [3]
MUSC 225
Theory III: Counterpoint [3]
MUSC 226
Theory IV: Expanded Harmony [3]
MUSC 227
Theory V: 20th Century Analysis [3]

Musicianship Lab

MUSC 110
Musicianship Lab [1]
MUSC 111
Musicianship Lab II [1]
MUSC 210
Musicianship Lab III [1]
MUSC 211
Musicianship Lab IV [1]
A grade of "B" or better is required for MUSC 211

Keyboard Skills

MUSC 178-A
Beginning Keyboard Skills Class [1]
MUSC 178-B
Beginning Keyboard Skills Class [1]
MUSC 179-A
Intermediate Keyboard Skills Class [1]
MUSC 179-B
Intermediate Keyboard Skills Class [1]
Or demonstrated piano proficiency.
A grade of "B" or better is required for MUSC 179-B.

MUSC 191

Eight semesters of MUSC 191 – Recital Preparation [8]

Music History

MUSC 230
Musics of the World [3]
MUSC 321
Music History I [3]
MUSC 322
Music History II [3]

Conducting

MUSC 380
Introduction to Conducting [3]

Ensembles

MUSC 300-310
Ensembles – Six semesters of ensemble participation [12]

Upper Division Classes

MUSC 480
Music, Art and Society [3]
Or
MUSC 485
Selected Topics in Music History [3]
One elective – upper level, in Music or VPA [3]Note: Performance majors are required to take as their upper-level elective core requirement either MUSC 362: Arts in Education or MUSC 400 Special Projects in Pedagogy.
Core Composition Requirements
---
In addition to the core courses listed above, students must complete the following core requirements.
Composition Major

Catalog Number

Course Name

MUSC 193
Performance Studies for Music Majors – Four semesters of individual performance studies at 3 credits each [12]
MUSC 224
Instrumentation [3]
MUSC 311
Free Composition [3]
MUSC 312
Advanced Composition [3] (Note: students must submit a portfolio of compositions to the faculty at the conclusion of this course to be approved for continuation in composition major.)
MUSC 427
Composing at the Computer [3]
MUSC 401
Special Projects in Composition – Three semesters. (Note: Portfolio of compositions for the senior recital must be presented to the faculty at the completion of this course) [9]
MUSC 492
Senior Project – students will produce a recital of their compositions as a capstone project. Students are encouraged to record their compositions in the recording studio on campus [2]