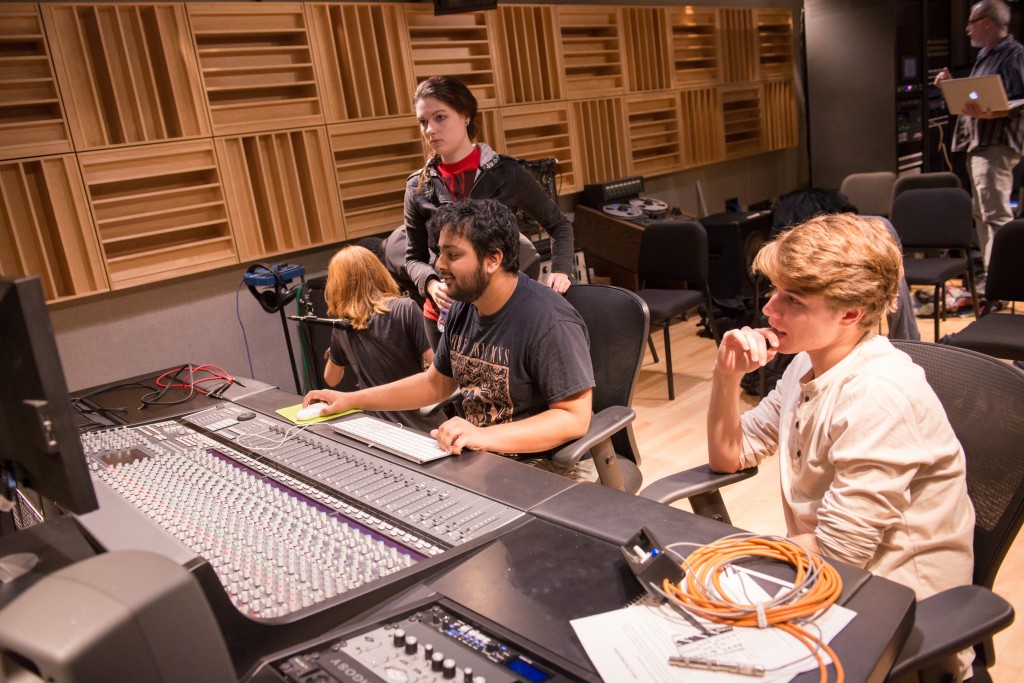 The Music Technology major is designed to give students a solid foundation in professional audio engineering with subject matter including acoustics, microphone placement techniques, stereo microphone theory, digital signal processing, mastering, plug-in applications, ProTools and surround sound recording techniques, MaxMSP, and sound editing for video with Final Cut Pro. Graduates can expect to be fully prepared to pursue careers in various areas of the audio industry such as recording, mixing, mastering, and post-production, or to undertake further studies at the graduate level. Music Technology faculty specializations include audio engineering, audio electronics, computer music, and audio postproduction. Students have the opportunity to pursue individual research projects under faculty supervision as well as gain the experience of audio production in a professional work environment.
Faculty
---
Alan Wonneberger, Director of Recording and Performance Technology
Core Music B.A. Requirements
---
Music Theory

Catalog Number

Course Name

MUSC 125
Theory I: Basics of Music [3]
MUSC 126
Theory II: Harmony and Voice Leading [3]
MUSC 225
Theory III: Counterpoint [3]
MUSC 226
Theory IV: Expanded Harmony [3]
MUSC 227
Theory V: 20th Century Analysis [3]
Note: Students in this major s may choose to replace MUSC 225 and MUSC 226 with MUSC 221 and the choice of MUSC 222 or MUSC 223
MUSC 221
Jazz Theory & Aural Skils
MUSC 222
Jazz Arranging
MUSC 223
Jazz Composition

Musicianship Lab

MUSC 110
Musicianship Lab [1]
MUSC 111
Musicianship Lab II [1]
MUSC 210
Musicianship Lab III [1]
MUSC 211
Musicianship Lab IV [1]
A grade of "B" or better is required for MUSC 211

Keyboard Skills

MUSC 178-A
Beginning Keyboard Skills Class [1]
MUSC 178-B
Beginning Keyboard Skills Class [1]
MUSC 179-A
Intermediate Keyboard Skills Class [1]
MUSC 179-B
Intermediate Keyboard Skills Class [1]
Or demonstrated piano proficiency.
A grade of "B" or better is required for MUSC 179-B.

MUSC 191

Eight semesters of MUSC 191 – Recital Preparation [8]

Music History

MUSC 230
Musics of the World [3]
MUSC 321
Music History I [3]
MUSC 322
Music History II [3]

Conducting

MUSC 380
Introduction to Conducting [3]

Ensembles

MUSC 300-310
Ensembles – Four semesters of ensemble participation [8]

Upper Division Classes

MUSC 480
Music, Art and Society [3]
Or
MUSC 485
Selected Topics in Music History [3]
One elective – upper level, in Music or VPA [3]Note: Performance majors are required to take as their upper-level elective core requirement either MUSC 362: Arts in Education or MUSC 400 Special Projects in Pedagogy.
Core Music Technology Requirements
---
In addition to the core courses listed above, students must complete the following major requirements.
Music Technology Core

Catalog Number

Course Name

MUSC 193
Performance Studies for Music Majors – Four semesters of individual performance studies at 2 credits each [8]
MUSC 218
Recording Techniques [3]
MUSC 219
Introduction to Digital Audio Workstations [3]
MUSC 318
Digital Audio Processing [3]
MUSC 319
Advanced Topics in Music Technology [3]
MUSC 417
Special Topics in Music Technology [3]
MUSC 418
Music Technology Internship [3]
MUSC 492
Senior Project [2] supervised by technology faculty