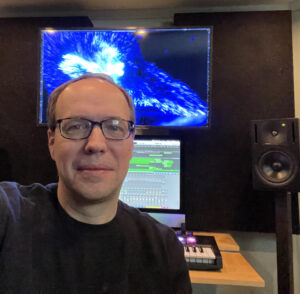 Composer and Producer Greg has been creating original music for film and television for over 20 years. His scores for television include the PBS documentary seires "Circus", and "Carrier" (Icon Productions). Kalember has scored many other documentary seires such as "Explorer" (National Geographic), "Biography" (A&E), and the classic anime series "Shaman King" (Fox). His film credits include "Voices Unbound: The Story of the Freedom Writers", "Shoot Down" (Rogues Harbor Productions), the award winning "Asparagus! – Stalking the American Life", and "Blood in the Sand" by Noah Haidle and Sam Gold.
Recent works include the score for the Emmy Award winning "Homestretch" (Kartemquin Films), which aired as part of the PBS Independent Lens series, and his music is heavily featured in the multimedia production "Basetrack Live" which made its New York debut at Brooklyn Academy of Music's Next Wave festival, and is currently on a national tour. Kalember also composed the score for "Cancer: The Emperor of All Maladies", a 3-part Public Television series directed by Barak Goodman with executive producer Ken Burns, and he recorded, mixed, as well as contributed original compositions to the score of the PBS documentary "Sacred: Milestones of a Spiritual Life"
Kalember started his musical career as a drummer in the world of heavy metal. His four-song EP "Tear Down The Walls" has achieved legendary status among collectors of metal records. In addition to the hundreds of pieces he has composed and produced for a vast array of advertising clients, many of the world's leading fashion designers including Versace, Gucci, Fekkai and Tiffany have been drawn to Kalember's edgy and high-energy style, and have launched their products with his tracks.
---
Contact
Professor of the Practice
Music Technology
Room: PAHB 138
gkalembe@umbc.edu