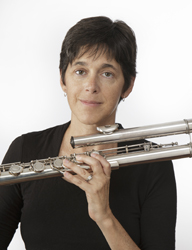 A champion of contemporary music, flutist Lisa Cella has performed throughout the United States and abroad. She is a founding member of NOISE, the resident ensemble of San Diego New Music. With NOISE she has performed the works of young composers all around the world including at the Acousmania Festival in Bucharest, Romania, the Pacific Rim Festival at the University of California, Santa Cruz, and as ensemble-in-residence at the University of Wisconsin, Milwaukee. NOISE also presents a three-day festival of modern music entitled soundON. Lisa performs with Jane Rigler and Carrie Rose in the flute collective inHALE, a group dedicated to developing challenging and experimental repertoire for two or three flutes.
She is a faculty member of the Soundscape Festival of Contemporary Music in Blonay, Switzerland and at Nief-Norf in Knoxville, TN. She has taught at the Festival Internacional Cervantino in Guanajuato, Mexico and presented workshops and recitals at the Mid-Atlantic Flute Fair in Reston, VA and at the National Flute Association Convention.
Her undergraduate work was completed at Syracuse University under the tutelage of John Oberbrunner, received a Master of Music degree and a Graduate Performance Diploma from Peabody Conservatory with Robert Willoughby, and received a Doctor of Musical Arts degree in contemporary flute performance under John Fonville at the University of California, San Diego. She is a Full Professor of Music at the University of Maryland, Baltimore County.
Contact
---
Department Chair
Professor
Director of Certificate Programs
Flute
Office: 410-455-1405
Room: PAHB 264
cella@umbc.edu
The Low Flutes Project
---
Exploration, devotion, and creation are at the core of my performance philosophy.    My path as a flutist has been one of continuous exploration, seeking works that challenge and stretch my abilities and presenting these works to the public with the utmost care and devotion. I embrace the process of creation; I find it satisfying and exhilarating to bring a new work into existence.  I would like to turn my attention to two instruments in particular: the alto and bass flutes    I am drawn not only to the beauty of the instruments embodied in their core tone, but their seemingly endless capacity to create sound worlds that extend their technical and expressive capabilities.  The Low Flutes Project seeks to find and create new works that shatter boundaries in sound and technique.  Through commissioning, performing, and recording, I will add my voice to the body of repertoire, helping to inspire the new generation of composers to explore deeply these two instruments that have captured my passion.
Project Updates
Composers commissioned:
George Lewis
Elanie Lillios
Nicholas Tzortzis
Linda Dusman
Works premiered:
15 Minutes of Fame winners
Transparent Wave IX by Tom DeLio
Peace, movement 1 for bass flute, by Stuart Saunders Smith
The Low Flutes Project is made possible by a generous grant from UMBC.
The Low Flutes Project

was supported by New Music USA, made possible by annual program support and/or endowment gifts from Mary Flagler Cary Charitable Trust, New York City Department of Cultural Affairs, Helen F. Whitaker Fund, The Aaron Copland Fund for Music, Inc., Rockefeller Brothers Fund, Pennsylvania Council on the Arts, Howard Gilman Foundation, Anonymous.
Teaching
---
Flute
Musicianship
Career Development for the Musician
New Music Ensemble
Research Interests
---
Contemporary Flute Repertoire
Education
---
B. A. Syracuse University (1988)
M. Mus. Peabody Conservatory (1991)
Graduate Performance Diploma – Peabody Conservatory (1993)
D.M.A. University of California, San Diego (2000)