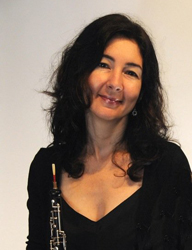 In addition to being the principal oboist of the Annapolis Symphony Orchestra, Maryland Symphony Orchestra, Post-Classical Ensemble, and Baltimore Chamber Orchestra, Fatma Daglar has held the position of assistant principal oboe with the Louisville Orchestra and has performed on oboe and English horn with the Baltimore Symphony Orchestra, Richmond Symphony Orchestra, Wolf Trap Opera Orchestra, Harrisburg Symphony Orchestra, Delaware Symphony Orchestra, Washington Concert Opera Orchestra, National Philharmonic Orchestra, Britt Festival Orchestra, among many others. Some recent highlights in solo work include Richard Strauss, John Harbison, Lukas Foss and Vaughn Williams oboe concertos. She has toured and performed throughout the United States, Japan and China.
An enthusiastic advocate of historical performance, she studied baroque oboe at the Oberlin Baroque Performance Institute and has appeared with the Washington Bach Consort, Ama Deus Ensemble, Brandywine Baroque, Modern Musick, and Bach Sinfonia.
By music critics of the Washington Post, the Baltimore Sun, and the Annapolis Capital, her playing has been described as such: "extraordinary playing", "a dexterous technician with attractive tone and a nifty sense of phrasing", "a concerto performance of virtuoso caliber, enthusiastically received", "touching, bittersweet tone", "terrific", "well-rounded tone with a beautiful vibrato".
Fatma Daglar attended the Robert College of Istanbul and the Istanbul University Conservatory of Music, where she received her Bachelor's Degree in Music and Oboe Performance. She also holds a Master's Degree and a Graduate Performance Diploma in Oboe Performance from the Peabody Conservatory, where she studied with Sara Watkins. She also teaches at Towson University, St. Mary's College of Maryland, and the Peabody Preparatory.
Contact
---
Affiliate Artist
Oboe
fdaglar@umbc.edu
Teaching
---
Oboe
Education
---
B.A. Music and Oboe Performance, Istanbul University Conservatory of Music
M.M. Oboe Performance, Peabody Conservatory