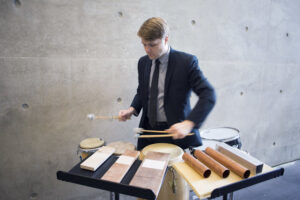 Dustin Donahue is a percussionist dedicated to chamber music and contemporary music performance. He has performed with many of North America's top presenters of chamber music, such as the Los Angeles Philharmonic's Green Umbrella series, Lincoln Center's Mostly Mozart Festival, Monday Evening Concerts, the Ojai Music Festival, the Park Avenue Armory, La Jolla Summerfest, and the Festival Internacional Cervantino.
He performs across the United States with groups such as the International Contemporary Ensemble, the Los Angeles Percussion Quartet, ECHOI, and the percussion group Red Fish Blue Fish. He is a member of the Partch Ensemble, a group dedicated to performances of newly-commissioned and historic works using Harry Partch's specialized instrumentarium. He appears on recordings for Decca, Mode, Naxos, New Focus, Populist, and Stradivarius Records, including a 2017 recording of Pierre Boulez's Le Marteau sans maître with the International Contemporary Ensemble.
He co-directs Wasteland, an ensemble and concert series in Los Angeles dedicated to fostering adventurous and experimental chamber music; the organization recently commissioned and premiered works by Silvia Cignoli, Carmina Escobar, Michelle Lou, Chris Williams, Kimia Koochakzadeh-Yazdi, and Katherine Young. The ensemble has been in residence at Harvard University, Stanford University, the University of California, San Diego, and the University of California, Santa Cruz, in addition to hosting its own composition academy in Los Angeles in 2019.
As a soloist, he has been featured at the Los Angeles Museum of Contemporary Art, the Carlsbad Music Festival, the John Cage Centennial Festival in Washington, D.C., Mengi in Reykjavík, Iceland, and the Walt Disney Concert Hall in Los Angeles. He has performed numerous times at the Percussive Arts Society International Convention, including a keynote performance in 2014 that featured his realizations of unconventionally notated works by Earle Brown and John Cage. As an advocate for contemporary music, he frequently develops new work with living composers, such as recent collaborations with Carolyn Chen, Nicholas Deyoe, Laure Hiendl, Tania Lanfer, Bruno Ruviaro, Steven Takasugi, and Yiheng Yvonne Wu.
His research investigates forgotten and under-performed works of the percussion repertoire, such as a 2022 lecture recital at the Transplanted Roots Percussion Symposium on the music of Netty Simons and her percussion work, Design Groups 1 (1967). A 2023 project with percussionist Rebecca Lloyd-Jones and musicologist Amy Cimini reconstructs and documents Maryanne Amacher's electroacoustic percussion duo, Adjacencies – a work rarely heard since its premiere in 1966.
Currently, he is Assistant Professor of Percussion at the University of Maryland, Baltimore County. He holds a DMA from the University of California, San Diego where he studied with Steven Schick and a BM from the University of Wisconsin where he studied with Anthony Di Sanza.
Contact
---
Room: PAHB 171
donahue@umbc.edu
Teaching
---
Percussion
Percussion Ensemble