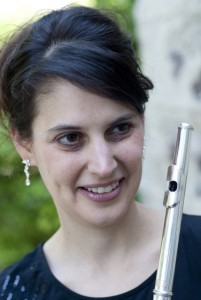 An award-winning musician and scholar, Lori Kesner enjoys a distinguished and active career as both a performing flutist and world music lecturer.
In 2002 Dr. Kesner was awarded a Fulbright grant to study Karnatak flute in South India. After earning both doctoral and master's degrees from the University of Cincinnati College-Conservatory of Music (CCM), as well as a Bachelor of Music, Summa Cum Laude from Ithaca College, Dr. Kesner accepted a faculty position at CCM as Director of the Andean World Music Lab and Preparatory Instructor of Flute Performance. She was also appointed as a Visiting Instructor at Miami University, Ohio, where she directed Andean and African world music ensembles and taught flute and world music courses. Dr. Kesner currently serves on the performing arts faculties of both the University of Maryland, Baltimore County and the Community College of Baltimore County and in 2008 was invited to be on the faculty of the Portugesa State Youth Orchestra for the Venezuelan El Sistema. This fall, Dr. Kesner began a series of world music lectures at John Hopkins University.
As an experienced and actively-sought orchestral flutist, Dr. Kesner performs regularly with the Annapolis Symphony, Annapolis Opera, and Mid-Atlantic Symphony in Maryland. She has appeared with orchestras in the Americas and Europe, including the Cincinnati Symphony Orchestra, IRIS Orchestra (TN), Richmond Symphony (VA), Binghamton Philharmonic (NY), Key West Symphony (FL), Utah Festival Opera, National Repertory Orchestra, AIMS Festival Orchestra in Graz, Austria and the Opera Theatre of Lucca, Italy.
In addition to her orchestral experience, Dr. Kesner is a founding member of theShaanti Trio, a flute, bassoon and piano ensemble dedicated to commissioning and performing works drawn from diverse world musical traditions.
A two-time winner (2000 and 2001)of the National Flute Association's Masterclass Performers Competition, Dr. Kesner has won numerous awards for her talents as a performer, including the second prize at the 2002 NFA Orchestral Auditioncompetition, a finalist award in the 2001 Myrna W. Brown Artist Competition, and a semi-finalist award in the 2001 Frank Bowen Young Artist Competition.
In 2009, Dr. Kesner won the National Flute Association DMA/PhD Dissertation competition and was invited to present her thesis, "Krishna Meets Pan: Indian-Western Fusion in Two Works for Flute and Harp by Ravi Shankar and John Mayer,"at the National Flute Convention in New York City.
Dr. Kesner studied flute at CCM with Bradley Garner and Randolph Bowman, piccolo with Jack Wellbaum, and ethnomusicology with Robert Templeman. At Ithaca College she earned a double degree in Music Education and Performance while studying flute with Wendy Mehne. Dr. Kesner has performed in masterclasses for such distinguished flutists as Göran Marcusson, Julius Baker, Michel Debost, Paula Robison and Marina Piccinini.
Contact
---
Affiliate Artist
Flute
lkesner@umbc.edu
www.lorikesner.com
Education
---
B.M. Ithaca College (1998)
M.Mus. University of Cincinnati College-Conservatory of Music (2000)
D.M.A. University of Cincinnati College-Conservatory of Music (2006)