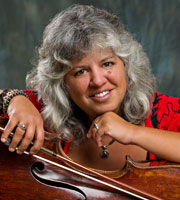 "Superb cellist" and "…among Baltimore's most popular musicians", are but two of the accolades from the Baltimore Sun, regarding the performances of Gita Ladd.  Ms. Ladd has been one of the most sought after cellists of the Baltimore-Washington, D.C. area for almost twenty years.  For most of that time she performed as a titled member of the Baltimore Symphony Orchestra, including several appearances as Principal Cello for the annual "Messiah" performances and at the SummerMusicFest Series.  Ms. Ladd is currently Principal Cello with the Baltimore Opera Company, Concert Artists of Baltimore, and Post Classical Ensemble of Washington D.C. During the summer, Ms. Ladd performs as Principal Cello at the Endless Mountain Music Festival in Wellsboro, PA. She has also performed as Principal Cello with the Baltimore Chamber Orchestra, the Baltimore Choral Arts Society, Cincinnati Chamber Orchestra, Assistant Principal Cello of the Knoxville Symphony and a member of  the Cincinnati Symphony Pops with Eric Kunzel. Ms. Ladd also performs throughout the year at the Kennedy Center with various ensembles including the Washington Opera, Washington Ballet, Washington Chorale and American Ballet Theatre.
Ms. Ladd has soloed with the Baltimore Symphony Orchestra on Tchaikovsky's "Roccoco Variations", David Amram's "Honor Song for Sitting Bull" and the Haydn "Symphonia concertante". Reviews from the Baltimore Sun include, "Her large, powerful tone never lost its quality, her phrasing had the appropriate bardic quality, and produced a deep often luxurious tone.  The best thing about her interpretation was its romantic outlook…"  She also soloed with the Lincoln Symphony Orchestra on the Dvorak "Cello Concerto". This performance of the Dvorak was chosen for nationwide distribution on National Public Radio.
Other solo appearances include Concert Artists of Baltimore on Barber "Cello Concerto" and the Lalo "Concerto for Cello and Orchestra" , Baltimore Chamber Orchestra on Haydn "Cello Concerto in C" and the Schumann "Cello Concerto", Knoxville Symphony Orchestra on the Shostakovich "Cello Concerto No. 2" and with the Endless Mountain Music Festival performing the Tchaikovsky "Roccoco Variations". On the Barber "Cello Concerto", the Baltimore Sun review included "Principal cellist, Gita Ladd, tackled theConcerto fearlessly and with a wonderfully rich tone. Her bold performance caught the swaggering force of the first movement and urgent poetry of the second in compelling fashion."
Ms. Ladd was featured in August 2008's cover story in Mountain Home Magazine: "Demolition Diva: Rowdy Cellist plays for U.S. Presidents, but leaves her heart in Wellsboro every summer" – by Matt Connorhttp://www.mountainhomemag.com/archives/August2008.pdf
Not being confined to strictly classical settings, Gita Ladd has shown her tremendous breadth of performance capabilities by touring with Tony Bennett, Henry Mancini, Clay Aiken and Manheim Steamroller. She has also performed music for Soprano and Cello with Renee Fleming at the Lyric Opera House in Baltimore as well as performing with El Divo, Christina Aguilera, Vince Gil and the Three Irish Tenors. Gita Ladd was featured at Johns Hopkins University in a collaboration with Pulitzer Prize winning poet Galway Kinnell. Ms. Ladd has performed for Presidents George H. W. Bush, Bill Clinton and George W. Bush. Among the conductors that she has worked with are Eugene Ormandy, David Zinman, Placido Domingo, Ivan Fischer, Alan Gilbert, Christian Badea, Pincas Zucherman, Gunther Herbig, James DePriest and Andrea Licata.
Ms. Ladd has recorded on a variety of labels with David Zinman and the Baltimore Symphony , including Tavener "Wake Up…And Die", written for cello ensemble with Yo-Yo Ma, soloist. Two of these recordings received Grammys and two more received Grammy nominations. A recently released CD with Ms. Ladd as cellist and founding member of the Atlantic String Quartet, received reviews from Classical CD Review, as "An admirable CD…obviously a first-class group….The result enchanting to the ear indeed."  She is also heard on three recent critically acclaimed releases by the Post Classical Ensemble of Washington, D.C.; "Plow that Broke the Plain", "The River", and "Carlos Chavez and Silvestra Revueltas Revisited". Ms Ladd is also featured in a soon to be released CD,  premiering a work Reilly Lewis and the Washington Cathedral Choral Society commissioned of  Pulitzer Prize winning composer Dominick Argento,"Evensong: Of Love and Angels" commemorating the Centennial of the Washington National Cathedral.
Ms. Ladd has a long standing commitment to the education of young musicians.  She was on the Peabody Conservatory, of Johns Hopkins University faculty in the spring of 2002.  Ms. Ladd joined the UMBC faculty in 2006. Beside her cello studio, faculty recitals, and performances with the contemporary music ensemble, "Ruckus", she has also served as Director of UMBC Chamber Players. With her wealth of diverse musical experiences, she has also frequently appeared in many Baltimore area schools as a clinician and soloist, and has been a frequent coach for the Greater Baltimore Youth Orchestra. While at the Baltimore Symphony Orchestra, she was the most often requested musician to serve as a clinician by schools in the Baltimore area as well as by visiting secondary schools for string coaching sessions. Ms. Ladd's areas of teaching expertise includes cello solo repertoire, chamber music, orchestra excerpts, classical, contemporary and popular music.
Besides her musical talents, Ms. Ladd has devoted much time and energy to human service work at local agencies and through Anne Arundel Community College, which lead Maryland Governor Robert Ehrlich to appoint her to the Board of Trustees at Anne Arundel Community College. She frequently volunteers at the Ordnance Road Correctional Facility.
Ms. Ladd attended the Curtis Institute of Music in Philadelphia, the Cleveland Institute of Music and the Cincinnati Conservatory of Music, all on full tuition scholarships.  Her major teachers include, Mischa Schneider of the Budapest String Quartet, David Soyer of the Guarneri String Quartet, Peter Wiley former cellist of the Cincinnati Symphony, Beaux Arts Trio, Guarneri String Quartet, Stephen Geber former Principal Cellist of the Cleveland Orchestra, and John Sharp current Principal Cellist of the Chicago Symphony.
Contact
---
Affiliate Artist
Cello
443-223-6669
gitabyte@aol.com