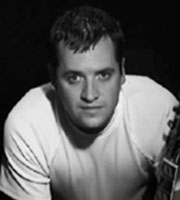 Lagana's playing displays fluid fingering up and down the fretboard, bobbing between subtle and fervor, engaging the listener by setting life's musings to organic compositions!" "Annapolis is home to a stellar guitarist…Tom Lagana…This is the word on Tom Lagana and his new CD PATUXENT." "Lagana's guitar playing evidences traces of John Scofield, Pat Metheny, and Bill Frisell." "The mellow type of texture often associated with the band Oregon." These are just a few statements being made about Tom Lagana and his powerful group.
Tom Lagana graduated from Boston's prestigious Berklee College of Music in 1992 and began his career as a musician in the Walt Disney Jazz Band. Lagana returned to Maryland a year later to jumpstart his career as a bandleader.
Looking for some young talent to work with, jazz legend Charlie Byrd struck up a conversation with Lagana after hearing him play in an Annapolis coffeehouse. Byrd is quoted as saying that "Tom Lagana is one of the most promising jazz guitarists in the area." Later that same year, the Tom Lagana Trio became the house band at the King of France Tavern. The band played to a packed house three nights a week for thirteen months. His guitar work can also be heard on the Fox Television show America's Most Wanted.
Early 2002, Tom released his first recording. After a SELL OUT performance in excess of 200 people at the Rams Head Tavern's National Showcase Mainstage, the CD began its climb up the National Jazz Airplay chart. It stayed on the charts for over 9 weeks peaking at #17, where it was garnering over 370 spins a week on better than 50 radio stations across the country. It was placed in WICN of Worcester, MA "10 Most Requested CD's" in late September, 2002.
Throughout his 15 year career, Lagana has played numerous jazz festivals including Long Island Guitar Festival, Oregon Ridge Park, The Mid-Atlantic Wine Festival, Federal Hill Festival, Kaufmann Music Series and The Annapolis Jazz Festival. Lagana has worked with such noteworthy musicians as Charlie Byrd, Craig Handy, Red Rodney, Bob Mintzer, and Marvin Stamm.
Lagana was chosen to perform for classical composer/guitarist Carlo Domeniconi at the Long Island Guitar Festival in April 2005. Tom performed Koyunbaba, arguably the composer's most famous work.
In March 2005, Lagana completed his M.M. in Performance at Towson University. During his first semester he was asked to perform for the installation of the University's new President, Dr. Robert Caret. While at Towson, Lagana was awarded 2nd Prize in the prestigious Sidney Lieberman Competition. Normally won by pianists, Lagana was the first guitarist to be recognized in the history of the competition.
Lagana was also a guest artist at the 1st World Guitar Congress held in June 2004 at Towson University. He performed with the Rondalla de Hunt Valley, playing bandurria as well as participated in Master classes with Ralph Towner, Dusan Bogdanovic, and both the Los Angeles and Brazilian Guitar Quartets.
Lagana recently shared the same bill with internationally renown jazz icon Herbie Hancock and The Dave Weckl Group.
Lagana authored a 25 page analysis of the music of Pat Metheny. After receiving Metheny's ringing endorsement of his work, Lagana will publish the article in the August and November 2005 issues of Just Jazz Guitar Magazine.
Contact
---
Affiliate Artist
Electric Guitar
tlagana@comcast.net
www.tomlagana.net
Education
---
B.A. Berklee College of Music (1992)
M. Mus. Towson University (2005)