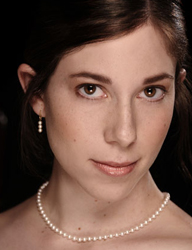 Jacqueline Pollauf, harpist, has been praised for playing with "transcendent ability" (The Sybaritic Singer) and "most satisfying elegance" (The Toledo Blade). Highlights of the 2019-2020 seaon will include a solo recital at the National Gallery of Art in Washington D. C.; the release of Beau Soir, an album of cello and harp music with Dariusz Skoraczewski; and a performance of Alberto Ginastera's Harp Concerto with the Occasional Symphony in Baltimore, Maryland.
Past performances include appearances at Carnegie Hall; the Eleventh World Harp Congress in Vancouver, Canada; and the Library of Congress in Washington D.C. Jacqueline has been a featured soloist with the Mid-Atlantic Symphony Orchestra and the Newark Symphony Orchestra, among others. A frequent recitalist, Jacqueline is always exploring the versatility of the harp both through standard repertoire and her own compositions,
Along with flutist Marcia McHugh and violist Karin Brown, Jacqueline appears as part of Trio Sirènes in performances throughtout the East Coast. Jacqueline also performs regularly with Dariusz Skoraczewski, principal cellist of the Baltimore Symphony Orchestra.
Jacqueline has performed with a wide array of ensembles, including the Baltimore Symphony Orchestra, the Post Classical Ensemble, (Washington D.C.), the Scottish Voices (Glasgow, Scotland), the National Gallery of Art New Music Ensemble (Washington D.C.), and the Choir of Clare College (Cambridge, UK).
Recording credits include Songs and Dreams for solo harp, featuring Jacqueline's own compositions and transcriptions; Bouquet, Jacqueline's debut solo album; and Music from Three Continents with the Scottish Voices ensemble of Glasgow, Scotland. 
A dedicated composer, Jacqueline has a variety of works are available through Lyon and Healy Publications, Vanderbilt Music and Harp Column Music. Two major pedagogical works, Exercises in Harmonics and Pedal Exercises for Harp, are available through Oakway Studios.
Jacqueline has been recognized with numerous honors including awards from the Maryland State Arts Council and Chamber Music America.  Jacqueline is on the faculties of the Baltimore School for the Arts, Blue Lake Fine Arts Camp, and the University of Maryland, Baltimore County. She has given masterclasses at Florida State University, the Levine School of Music, and Salisbury University. Jacqueline holds degrees from the Peabody Conservatory.
Contact
---
Affiliate Artist
Harp
jpharp@jpharp.com
www.jpharp.com
Education
---
B. Mus. Peabody Conservatory (2006)
M. Mus. Peabody Conservatory (2007)