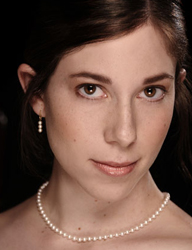 Jacqueline Pollauf, harpist, enjoys a thriving career as a performer, composer, and teacher. Highlights of the 2016-2017 season included the premiere of a new work for harp and voice at Carnegie Hall in New York, New York, and a residency at Florida State University in Tallahassee, Florida. Praised for playing with "transcendent ability" (The Sybaritic Singer), past performances include such diverse settings as the Eleventh World Harp Congress in Vancouver, Canada; the Library of Congress in Washington D.C.; and the Bohemian Caverns jazz club in Washington D.C. Whether performing standard repertoire or her own compositions, Jacqueline is always exploring the versatility of the harp.
In addition to solo performances, Jacqueline performs as part of Trio Sirènes, along with flutist Marcia Kämper and violist Karin Brown. Trio Sirènes has performed on the Baltimore Symphony Orchestra's Chamber Music by Candelight Series, and the Musical Arts International Series, among others. Trio Sirènes looks forward to releasing their debut recording on the ANALOG Arts Label.
Jacqueline has performed with a wide variety of ensembles, including the Baltimore Symphony Orchestra, the Post Classical Ensemble, (Washington D.C.), the Scottish Voices (Glasgow, Scotland), the National Gallery of Art New Music Ensemble (Washington D.C.), and the Choir of Clare College (Cambridge, UK).
An active composer, Jacqueline has been awarded an artist residency through the Baltimore County Public Library for the fall of 2017 to pursue new compositions. Her works are increasingly available through a variety of sources, including Vanderbilt Music and Harp Column Music. Jacqueline's first major pedagogical publication, Pedal Exercises for Harp, was published in 2016.
Jacqueline has been recognized with numerous awards including two Individual Artist Awards from the Maryland State Arts Council, a Chamber Music America Commissioning Grant, and a Yellow Barn Artist Residency.  Recording credits include Bouquet, a solo album; Music from Three Continents with the Scottish Voices ensemble;  and Voyage, with  saxophonist Noah Getz.
Jacqueline is on the faculties of American University, the Baltimore School for the Arts, Blue Lake Fine Arts Camp, and the University of Maryland, Baltimore County; and is the director of the Baltimore Harp Camp. Jacqueline holds degrees from the Peabody Conservatory.
Contact
---
Affiliate Artist
Harp
jpharp@jpharp.com
www.jpharp.com
Education
---
B. Mus. Peabody Conservatory (2006)
M. Mus. Peabody Conservatory (2007)