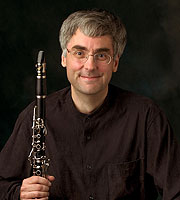 As a recitalist of new music, E. Michael Richards – clarinet has premiered over 150 works that have utilized the clarinet at performances throughout the US, Japan, Australia, and Western Europe. He has performed the Clarinet Concerto of John Corigliano with the Syracuse Symphony under Kazuyoshi Akiyama, and performed as a member of the Syracuse Society for New Music from 1986-2001, serving two separate terms on the Board of Directors. Recently, he performed at International Computer Music Conferences in Miami (2004) and New Orleans (2006), the 2003, 2005, and 2008 Third Practice Festivals in Richmond, Virginia, the 2006 SEAMUS National Conference in Eugene and 2007 SEAMUS National Conference at Iowa State University, the 2007 and 2008 Florida Electroacoustic Music Festivals in Gainesville, the 2009 Spark Festival in Minneapolis, the New York computer Music Festival (2009), the Pulcheria Festival in Piacenza, Italy, and at the Hartt School of Music, California Institute of the Arts, the University of California, Irvine, and the University of Redlands.
Trained as a clarinetist at the New England Conservatory (B.Mus.) and Yale School of Music (M.Mus.), Richards earned a Ph.D. at the University of California, San Diego. He has lectured on new clarinet techniques at four national and international conferences (Chicago, Phoenix, Miami, Edinborough), and presented lecture/recitals with Kazuko Tanosaki at the symposium of the International Musicological Society in Melbourne, Australia on new Japanese music. In 2004, he was awarded Second Prize at the ClarFest International Research Competition in Washington DC for his research and lecture on the clarinet music of Akira Nishimura. Richards received a 1990 U.S./Japan Creative Artist Fellowship (sponsored by the National Endowment for the Arts, U.S.-Japan Friendship Commission, and Japanese Government Cultural Agency) as a solo recitalist for a six-month residency in Japan , a NEH Summer Fellowship to study traditional Japanese music, and a residency grant (Cassis, France) from the Camargo Foundation to complete a book – The Clarinet of the Twenty-First Century. He has subsequently completed similar books for bass (1996) and E-flat (2000) clarinets, and has just completed a revision (2009) of these three texts that includes more than 75 etudes and exercises, a DVD-Rom and Video with recordings of examples and etudes/exercises in surround sound, 23 CDs of musical examples, and an interactive multi-media website. Richards has been recorded (CD) on the NEUMA, Mode, CRI, and Sony DADC Austria labels.
Praised by the American Record Guide for their "dazzling technique" and "blazing performances," the Tanosaki-Richards Duo has performed throughout Japan, Europe, Australia, and the US since their first performance together in 1982.  Concerts at international festivals have included the Asian Composer's Forum (Sendai, Japan), two Festivals of Modern Music in Kobe, Japan, and recitals at the Music Forum Series at Shobi Conservatory (Tokyo), the Meet the Composer Series at the Center for Computer Music and Music Technology of the Kunitachi College of Music (Tokyo), and at International Clarinet Festivals in Paris, Washington, and Tokyo.  The Tanosaki-Richards Duo will present a recital of microtonal music at the 2011 International Clarinet Festival in Los Angeles. They have also performed in residence at the Conservatorio G. Nicolini, Piacenza, Italy, the Val Tidone Summer Masterclasses in Pianello, Italy, and at more than 25 colleges and universities throughout the US and Japan.  They have commissioned and premiered numerous works by composers including Akira Nishimura, Linda Dusman, Jay Reise, P. Q. Phan, Stuart Smith, Masao Honma, Mamoru Fujieda, Masataka Matsuo, and Drew Krause, with new works since 2005 from Hiroyuki Itoh, Michael Finnissy, Bill Kleinsasser, David Kim-Boyle, Hiroyuki Yamamoto, and Shirotomo Aizawa.
The Tanosaki-Richards Duo has commissioned and performed Masataka Matsuo'sDouble Concerto with the Shinsei Japan Philharmonic under Kazumasa Watanabe, and recorded the work for an Opus One CD (composer conducting). They have also recorded a CD of new Japanese music for clarinet and piano on Ninewinds Records, chamber music of P.Q. Phan on a CRI CD, performed recitals at Lincoln Center, Greenwich House, and the Guggenheim Museum in New York, and at the American Academy in Rome (Italy), and presented a lecture-recital of Asian-American music at the International meeting of the College Music Society in Kyoto (Japan).  Richards and Tanosaki have co-directed six international symposia on new Japanese and Asian music, the most recent in Baltimore/Washington DC (Music of Japan Today 2007), supported by grants from the Asian Cultural Council, Association of Asian Studies, Japan Foundation NY, All Nippon Airways, Maryland State Arts Council, Japan Commerce Association of Washington DC, and the Embassy of Japan, including concerts at the Freer Gallery of the Smithsonian Institution's National Asian Art Museum.  They edited a book about contemporary Japanese music (Music of Japan Today) published by Cambridge Scholars Publishing (UK) in 2008.
E. Michael Richards is currently a professor in the Music Department at the University of Maryland , Baltimore County, a guest artist with the Ensemble for New Music at Towson University and the Verge Ensemble (ensemble in residence at June in Buffalo 2009), and a founding member of RUCKUS (contemporary music ensemble of UMBC). He received a 2010 Individual Artist Award from the Maryland State Council of the Arts, and a 2011 USM Regents' Faculty Award for Excellence in Research/Scholarship/Creative Activitites.
To read more about his research on extended clarinet techniques, click here.
Contact
---
Professor
Phone: 410-455-3064
Office: PAHB 241
emrichards@umbc.edu
Website
Teaching
---
Clarinet
Conductor of The UMBC Symphony
Research Interests
---
Extended Clarinet Techniques
Contemporary Music Performance
Traditional and Contemporary Japanese Music
Education
---
B. Mus. New England Conservatory of Music (Clarinet & Music Education, 1976)
M. Mus. Yale University School of Music (Clarinet Performance, 1978)
A. M. Smith College (Musicology, 1980)
Ph.D. University of California, San Diego (Theoretical Studies & Conducting, 1984)