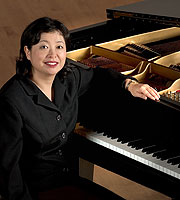 Kazuko Tanosaki, a first-prize winner of the La Jolla Young Artists Competition (CA), has performed as a guest artist at the Piano Panorama of Twentieth Century Music in Rotterdam, Holland, on French National TV, with I Musici de Montreal, and as a concerto soloist with the Syracuse Symphony, and Hamilton College Orchestra during their tour of Romania and Bulgaria.  Praised for her "vibrant performance" (The Manhattan Review), she has performed recitals in Europe, Japan, and the US.  Dr. Tanosaki holds a B.A. from the Kunitachi College Conservatory of Music (Tokyo), M.A. from UC San Diego, and DMA from the Eastman School of Music (Solo piano performance and literature). She was a faculty artist at the 2004 Val Tidone International Masterclasses in Piacenza , Italy, and former Lecturer in Music (piano) at Hamilton College, and performer with the Syracuse Society for New Music. Recently, she has performed as an artist with RUCKUS and a guest artist with the Ensemble for New Music at Towson University.  Dr. Tanosaki has been recorded on the CRI, Ninewinds, and Opus One labels.
Dr. Tanosaki is the former Director of the Post-Baccalaureate Certificate Program in American Contemporary Music at UMBC, an innovative curriculum for both native English speakers, and for talented international music students who also study at the English Language Center in order to prepare for entrance to American graduate programs in music. Under her directorship, students succeeded to enter prestigious graduate program such as Eastman school of music, Hart school of music, Boston University, Univ.of N.Y.Stony brook, N.Y. Univ. Peabody School of Music, Towson Univ. and CalArts. Receiving the Performing position includes the State Fall Symphony.  Dr. Tanosaki teaches piano and other academic music courses at UMBC.
Praised by the American Record Guide for their "dazzling technique" and "blazing performances," the Tanosaki-Richards Duo has performed throughout Japan, Europe, Australia, and the US since their first performance together in 1982.  Performances at international festivals have included the Asian Composer's Forum (Sendai, Japan), two Festivals of Modern Music in Kobe, Japan, and recitals at the Music Forum Series at Shobi Conservatory (Tokyo), the Meet the Composer Series at the Center for Computer Music and Music Technology of the Kunitachi College of Music (Tokyo), and at International Clarinet Festivals in Paris, Washington, and Tokyo.  They have also performed in residence at the Conservatorio G. Nicolini, Piacenza, Italy, the Val Tidone Summer Masterclasses in Pianello, Italy, and at more than 25 colleges and universities throughout the US and Japan.  They have commissioned and premiered numerous works by composers including Akira Nishimura, Linda Dusman, Jay Reise, P. Q. Phan, Stuart Smith, Masao Honma, Mamoru Fujieda, Masataka Matsuo, and Drew Krause, with new works since 2005 from Hiroyuki Itoh, Michael Finnissy, Bill Kleinsasser, David Kim-Boyle, Hiroyuki Yamamoto, and Shirotomo Aizawa.
The Tanosaki-Richards Duo has commissioned and performed Masataka Matsuo'sDouble Concerto with the Shinsei Japan Philharmonic under Kazumasa Watanabe, and recorded the work for an Opus One CD (composer conducting). They have also recorded a CD of new Japanese music for clarinet and piano on Ninewinds Records, chamber music of P.Q. Phan on a CRI CD, performed recitals at Lincoln Center,Greenwich House, and the Guggenheim Museum in New York, and at the American Academy in Rome (Italy), and presented a lecture-recital of Asian-American music at the International meeting of the College Music Society in Kyoto (Japan).
Tanosaki and Richards have co-directed six international symposia on new Japanese and Asian music, the most recent in Baltimore/Washington DC (Music of Japan Today 2007), supported by grants from the Asian Cultural Council, Association of Asian Studies, Japan Foundation NY, All Nippon Airways, Maryland State Arts Council, Japan Commerce Association of Washington DC, and the Embassy of Japan, including concerts at the Freer Gallery of the Smithsonian Institution's National Asian Art Museum.  They edited a book about contemporary Japanese music (Music of Japan Today) published by Cambridge Scholars Publishing (UK) in 2008.
Contact
---
Affiliate Artist
Piano
Music Theory
Office:  410-455-2814
Education
---
B.A. Kunitachi College Conservatory of Music (Tokyo) (1980)
M.A. University of California, San Diego (1984)
D.M.A. Eastman School of Music (2001)