Marcin Dylla
Presented by the Baltimore Classical Guitar Society
Saturday, November 16, 2019
8:00 PM - 10:00 PM
Earl and Darielle Linehan Concert Hall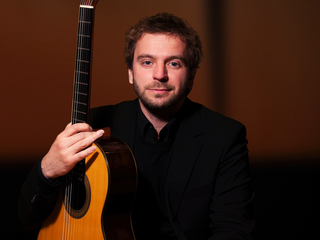 "Dylla's a world-class virtuoso (…) and the evening was a riveting display of guitar technique. But it wasn't his pinpoint accuracy that dazzled, so much as his deeply felt, almost sensual poeticism. This was playing of almost Romantic-era passion — and it was impossible not to be moved by it."
Hailed by Washington Post as "among the most gifted guitarists on the planet" Polish guitarist, Marcin Dylla is a rare phenomenon in the recent history of Classical Guitar. Many music critics, connoisseurs, and music lovers certify that Marcin Dylla is among the world's elite of classical guitar players. He has earned this position, among others, to the unparalleled number of awards including 19 First Prizes from 1996-2007 at the most prestigious international music competitions around the world. His last triumph was the Gold Medal of the '2007 Guitar Foundation of America International Competition' in Los Angeles known as the most prestigious guitar contest in the world followed by tour of over 50 cities in North America, Mexico and Canada during 2008-09 season, live recital video recording for Mel Bay Publications and CD recording for Naxos that reached the Naxos 'Top 10 Bestselling Albums' in September 2008. His live recital DVD "Wawel Royal Castle at Dusk" was nominated for 2010 Fryderyk Award (equal to American Grammy) in the category of Solo Classical Music Album of the Year.
"'Incredible' is a word used far too frequently these days, but the Polish guitarist Marcin Dylla restored the meaning of the word in an absolutely stunning concert." - Herald Tribune
---
Tickets: 
$35 - member
$40 - nonmember
---
UMBC is located about 10 minutes south of the Inner Harbor along I-95. For this event, free visitor parking is available in Lot 8, directly adjacent to the Performing Arts and Humanities Building, where Linehan Concert Hall is located — please visit here for additional information.
---