It is with sorrow that we share the passing of Dr. E. Michael Richards, professor emeritus of music.
One of the world's leading interpreters of contemporary music for the clarinet, Michael was an exemplary performer, researcher, and educator. He joined the UMBC faculty in 2001, was promoted to full professor in 2009, and twice served as chair of the music department before retiring with emeritus status in 2021.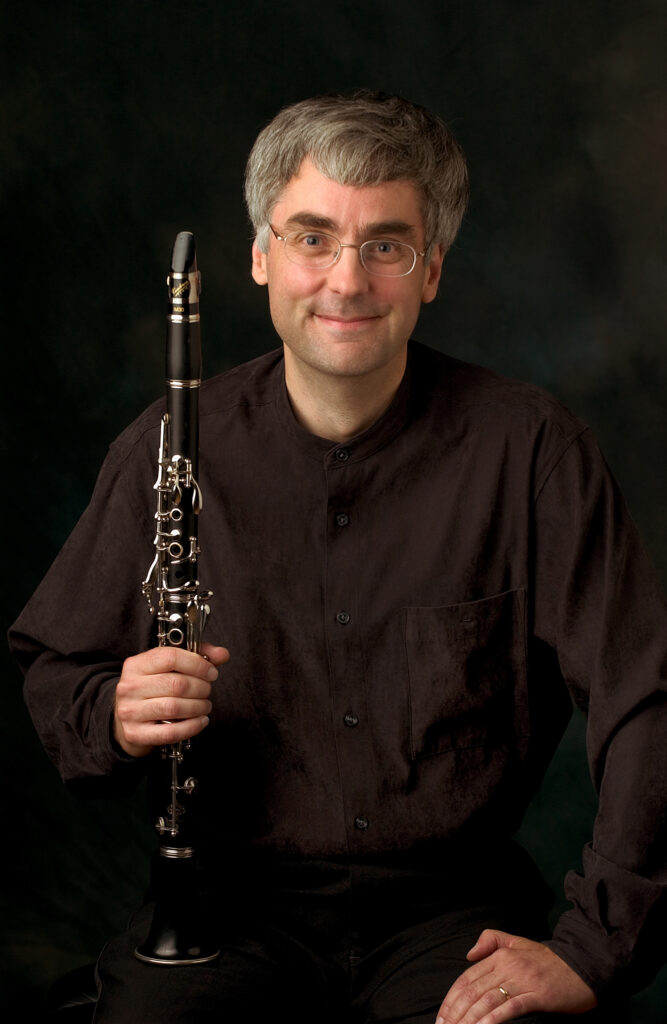 A campus leader
Michael's superb leadership skills were evident soon after his arrival on campus. Linda Dusman, professor of music and former chair, shared, "When we hired Michael in 2001, I did not know at the time that he would become my right hand in revitalizing the music department, recruiting students and new faculty growing from a department of 4 full-time faculty and 60 students to 15 faculty and 150 students in a very short time. Michael brought vision, administrative skills, and extraordinary artistry to UMBC."
Michael's contributions to that remarkable departmental growth were myriad. Working in partnership with Kazuko Tanosaki, he founded the Post-Baccalaureate Certificate in American Contemporary Music, a program that brought several cohorts of international students to UMBC. He established an exchange program with the Conservatorio "G. Nicolini" in Piacenza, Italy, which enabled a steady flow of faculty and students between institutions. He helped manage the completion of the music portion of the Performing Arts and Humanities Building, outfitting spaces and hiring staff to manage its complex operations. As director of the UMBC Symphony, he transformed the ensemble from one that was essentially a community orchestra, with little student involvement, to one comprising 80% UMBC students, and from virtually every major. At UMBC's 50th Anniversary in 2016, the Symphony capped a weekend of festivities, performing outside with fireworks overhead.
An internationally recognized performer and researcher
An internationally recognized performer, Michael was a respected force on concert stages around the world, both as a soloist and with the Tanosaki-Richards Duo, formed with his wife and longtime collaborator Kazuko Tanosaki. He and the duo often premiered works written for them — more than 150 in all — building a substantial new repertoire for the clarinet and the clarinet-piano ensemble.
"As a composer, creating music for him as a soloist and for the Tanosaki-Richards Duo constituted high points of my career," said Dusman. "His ability to understand the deep meanings in a musical score, to shape the color and time-space of music for clarinet for me was not only a personal gift, but also a legacy to the entire global community of contemporary music making."
Michael was also a founding member of the UMBC new music ensemble RUCKUS. During his years with the group, the ensemble performed numerous times at UMBC, enjoyed residencies at Stanford University and the New England Conservatory of Music, and performed at venues such as the Smithsonian Institution and the Baltimore Museum of Art.

A particular research focus for Michael centered around extended techniques for the clarinet, especially the use of microtones (tones that are "between" the traditional notes in the Western musical scale) and multiphonics (the ability to play two or more notes simultaneously). His book The Clarinet of the Twenty-First Century, which investigates these techniques, quickly became a de facto standard reference for students and professionals alike.
A dedicated teacher and mentor
At both UMBC and Hamilton College, where he taught before coming to Baltimore, Michael touched the lives of hundreds of students. At UMBC, he directed a symphony that included not only music majors, but also students majoring in biology, electrical engineering, English, psychology, and many other fields.
"I will never forget the hours that Dr. Richards would stay after symphony rehearsal to just hang out with us and chat or the time that he entrusted me with doing a design for an upcoming concert," remembered Megan Clelan '19, visual arts, a Linehan Artist Scholar who minored in music.  "He believed in each and every one of his students to excel — both in their careers and as people. His empathy and kindness, no matter how frustrating the situation, will be something that I will always remember and carry with me."
Christian Hartman '20, music, and also a Linehan Artist Scholar, recalled, "Dr. Richards was more than a teacher and mentor — he was a great friend as well. He awakened and kindled my passion for contemporary music, and supported my openness to different musical styles. I wouldn't be where I am today without Dr. Richards' mentorship, encouragement, and guidance, and I am so grateful that I got to know and learn from him."
While Michael inspired students to be their best and to challenge themselves, he was also an inspiration to his colleagues in the music department. "Michael was a consummate pedagogue and truly loved teaching," added professor and violinist Airi Yoshioka, a close colleague. "He saw each student as having innate abilities to blossom and knew how to bring brilliance out of them. I learned so much from talking to him about how to support, encourage and patiently watch their development. He shared so many astute observations about my own students and put me on track when facing challenges. I am so grateful for all the wisdom he shared with me because he helped me grow as a teacher."
A generous personality
Known for his quote, "I'm not mad, I'm just excited!" Michael never hesitated to share his positive energy with those around him. Possessed with a razor sharp wit and quick smile, his often quirky sense of humor put people at ease. Faculty, staff, students and alumni alike valued his warm and affable personality.
"When Michael joined the UMBC Music Department over 20 years ago, he and I became great friends immediately," shared Tom Goldstein, recently retired from the music department. "It would be almost impossible to overstate Michael's contributions to UMBC as a phenomenal musician, conductor, teacher, Department Chair, and perhaps most of all, mentor and inspiration to many, many students. I will miss him incredibly."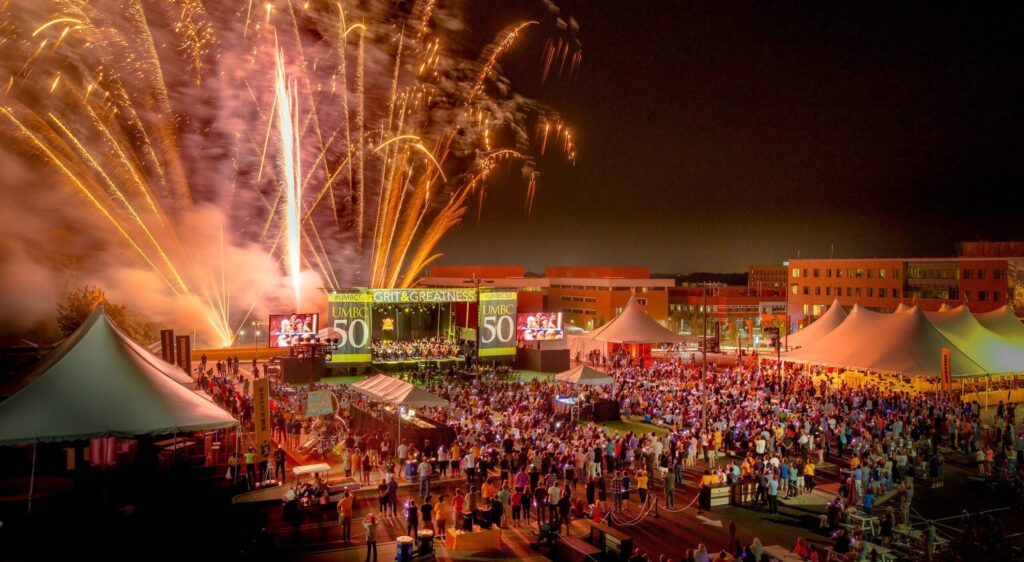 Celebrating Michael's life
Michael is survived by his wife, Dr. Kazuko Tanosaki, a concert pianist well known to many in the campus community, and sister, Dr. Melinda Richards Banks.
A celebration of life event hosted by the family on Saturday, March 4 will be viewable by Zoom. Friends are encouraged to visit the site of the Sterling-Ashton-Schwab-Witzke Funeral Home of Catonsville, Inc., to share memories and photographs.
In lieu of flowers, the family suggests memorial contributions in honor of Michael can be made to the UMMC Heart Center Nursing Fund (under designation please choose Heart Center Nursing Fund), the Baltimore Symphony Orchestra's OrchKids program, or to the UMBC Department of Music (designate Music as your recipient).
The Department of Music will honor Michael with a named seat in the Earl and Darielle Linehan Concert Hall and provide an annual award to a member of the UMBC Symphony.
On Tuesday, March 7 from 6 to 7 p.m. in Earl and Darielle Linehan Concert Hall, the campus community is invited to gather together to share memories. This event will be available via livestream here. We feel that a fitting conclusion to our event shall be a reading of Elgar's Nimrod, from his Enigma Variations. This work was a favorite of Dr. Richards, and one of the last works he conducted as director of the USO. It also is a beautiful message from a friend, with a rich tradition of performances honoring departed musicians. While not a performance, this reading offers us the chance to casually come together as artists and collectively share a musical offering for a friend. All current and former members of the USO, as well as any UMBC faculty or colleagues of Dr. Richards are welcome to participate. The instrumentation is full symphony orchestra with timpani and no other percussion. If you are interested in performing, please go here for information and links to the music.
A space for written memories has been created outside the Music Box.
Read more about Michael's work with the UMBC Symphony in UMBC Magazine.
Photo of E. Michael Richards by Richard Anderson.