Announcing: Visiting Lecturer in Orchestral Studies
1-year position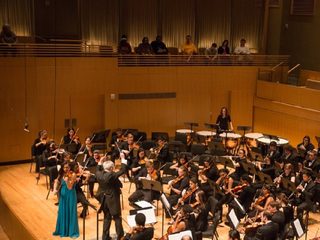 The Department of Music at UMBC seeks a well-qualified Lecturer (Full-time including benefits) with a primary specialization in orchestral conducting beginning August 23, 2021.  This position will be responsible for the direction of the UMBC Symphony Orchestra with additional teaching duties to be determined by the interests of the applicant and the needs of the department. Applicants who demonstrate a commitment to diversity and inclusion by way of teaching, performing, publishing, or volunteer experiences are urged to submit an application. Salary is competitive. Master's degree is required. The successful applicant will be an experienced conductor, with additional teaching skills/experiences that will serve to broaden our curricular offerings. Applicants should send a current CV; a detailed statement of conducting qualifications and teaching interests and preparedness; dated links for up to 3 video excerpts (totaling no more than 30 minutes of material) demonstrating conducting skills in a variety of styles (please include a video example of a rehearsal if possible);  and, current contact information for three references. Additionally, all candidates must submit a separate statement addressing their capacity to respond in pedagogically productive ways to engage students from diverse backgrounds.  For best consideration, please submit all application materials by May 1, 2021  via Interfolio (http://apply.interfolio.com/85695). Applications will be accepted until filled. For questions, please contact Dr. Lisa Cella, Department Chair at cella@umbc.edu.
Located in the heart of the Baltimore-Washington corridor, the Department of Music is a growing diverse and supportive community enrolling 160 undergraduate majors. Housed in the University's striking new Performing Arts and Humanities Building (2014), the music wing includes a 350-seat performance space with superior acoustics, new 9-foot Steinway grand
pianos, and fully equipped recording and keyboard labs. All tenure-track faculty maintain robust careers in performance, conducting, or composing on the regional and national level, with many having a research focus in contemporary art-music. In addition to its undergraduate degrees, the Department offers a post-baccalaureate Certificate in American Contemporary Music. See music.umbc.edu for more details. UMBC, an Equal Opportunity / Affirmative Action Employer, is especially proud of the diversity of its student body and we seek to attract an equally diverse applicant pool for this position. We have a strong commitment to increasing faculty diversity. We encourage applications from women, minority group members, veterans, and individuals with disabilities.