UMBC Musicians Perform at Creative Alliance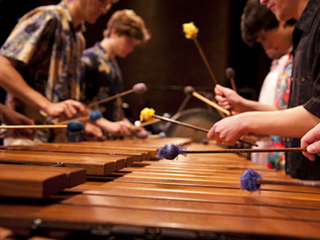 The Hi Tom Ensemble is a new percussion quartet start by UMBC music majors Adam Smith, Alex Armbruster, Kyra O'Donnell, and Brandon Gouin. Together, these students have premiered several percussion works at UMBC including "Shifting Evanescence" by Jeffrey Martin and "Speed Wobbles" by Tom Goldstein. Now, at their first show outside of UMBC, Hi Tom Ensemble will perform "Alone or Together" by Eugene Novotney, a medium-length percussion piece inspired by East Indian drumming and tap dance. 
The performance is a part of the Creative Alliance's The BIG Show, an event encompassing multiple artistic disciplines. More information can be found on the Creative Alliance's
website
.