UMBC Faculty and Staff Perform at National Flute Convention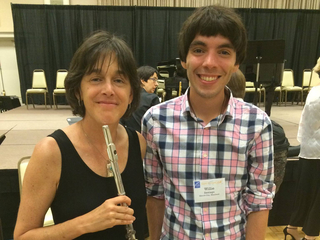 Dr. Lisa Cella, professor of flute, and Willie Santiago, concert coordinator for the department of music, recently performed at the National Flute Association's 44th Annual Convention in San Diego, California.  Dr. Cella performed on a concert in tribute to John Fonville, her former mentor professor at University of California - San Diego. The concert exclusively featured compositions for flute by John Fonville and the works were performed by several of his former students.  Willie Santiago performed with his flute quartet, Stranded Silver, on a chamber music recital devoted to music written for multi-flute ensembles.  Stranded Silver's program consisted of music written within the last decade.  
Congratulations to Dr. Lisa Cella and Willie Santiago on their performances at the convention!