Samuel Winnie ('16 Music) named Finalist in American Prize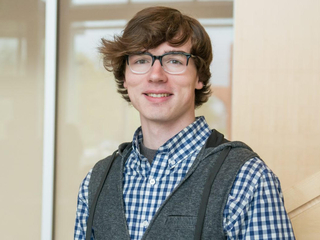 Samuel Winnie (Music Composition '16) has been named a finalist for the Ernst Bacon Memorial Award in Composition for his piece 
Nightfall in Lothlorien, 
performed by the 
UMBC Wind Ensemble
conducted by faculty member 
Brian Kaufman
 and recorded by director of recording 
Alan Wonneberger
.  To hear a recording of the work, click here.     
Samuel Winnie is a Baltimore-based composer originally from Joppa, MD, who received his BA in Music Composition in the spring of 2016. As an undergraduate, Sam studied music under UMBC's composition faculty: Dr. Anna Rubin and Dr. Linda Dusman. Throughout his tenure as a Linehan Artist Scholar, Sam collaborated with UMBC's finest artists in many multimedia works, such as the award winning documentary "Future Children", by Emily Eaglin. In the spring of 2015, Sam studied abroad in Piacenza, Italy, where he studied music composition under Carlo Landini for six months. In 2016, Sam was invited to the University of Oklahoma where one of his works for solo cello and electronics, Romani Lachrymose, was selected as a part of a nation-wide competition for a performance at the 2016 National Student Electronic Music Event (N_SEME). Following his graduation, Sam hopes to attend graduate school in the Netherlands where he has been accepted into the Hogeschool voor de Kunsten Utrecht. 
Congratulations to Samuel and best of luck in the finals!