The American Prize honors Dr. Richards and UMBC Symphony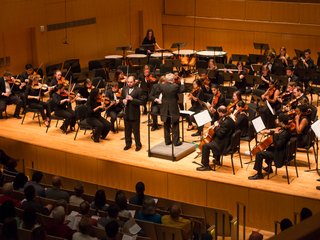 Conductor E. Michael Richards, professor of music, and the UMBC Symphony have been awarded honorable mention in the college/university division of The American Prize's Ernst Bacon Memorial Award in the Performance of American Music for their 2016 performance and recording of William Grant Still's "Afro-American Symphony." Alan Wonneberger, lecturer and director of recording for the department of music, mastered the recording of the live performance.
Among the many contests hosted by The American Prize, the Ernst Bacon Memorial Award for the Performance of American Music focuses exclusively on works by American composers from any period and in any style.
Congratulations to the UMBC Symphony and Dr. Richards!  
To read the full story, visit UMBC News.