Recent Faculty Achievements
September 21, 2017 7:51 PM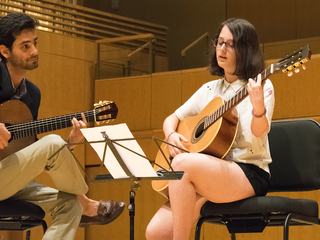 Nana Vaughn:
Over the Summer, affiliate artist Nana Vaughn directed the second annual string institute through UMBC's
Summer Enrichment Experience
. The program offered student the opportunity to play chamber music and various music classes for a week and July with a culminating performance at the end of the week.  Ms. Vaughn also performed with Steven Honigberg, a cellist in the National Symphony Orchestra, in a quartet recital as part of the Washington Musica Viva chamber music series in Washington D.C.  She was also a finalist for a one year position with the Baltimore Symphony Orchestra. 
Jonathan Zwi:
This July saw the inauguration of the Summer Guitar Academy, in collaboration with the Music Department and the
Office of Summer Enrichment Experiences
 directed by Jonathan Zwi, with help from his assistant Morgan Dice, students of all levels and abilities attended a one-week intensive course where they engaged in a variety of topics and styles.  Through daily private lessons, ensemble rehearsals and group classes, the students learned about positioning, technique, tone, sight reading, music theory, fretboard harmony, arranging, songwriting and instrument building.
The students learned an incredible amount in this short time and finished up with an amazing demonstration of solo, duo and ensemble performances from styles ranging from pop, blues and classical music.
Jonathan Zwi spent the month of August as an artist-in-residence in the village of Tatuamunha, Brazil, along the country's Coral Coast.
Through his painting, Jonathan sought to evoke some of the natural and social experiences of daily life in this rural part of the country.
By straining the sand from his beachside residence, Jonathan filtered out everything but the finest-grained black sands to be used as raw materials in his paintings.  With a limited palette of black, white, ochre and gray, these sands were used to create a textural and aesthetic reference to the black-washed beaches that result from the receding tides. 
Stephen Caracciolo:
Dr. Stephen Caracciolo, associate professor of music, will serve as a guest presenter at the National Pastoral Musicians Conference in Baltimore next summer in 2018. His publisher MorningStar Music is the sponsor for the event and he is slated to lead a conducting demonstration and lecture for an hour.
Justin Drew:
This summer, Mr. Drew did a residency at "music for all" with the Rodney Marsalis Philadelphia Big Brass at Ball State University in Muncie, Indiana. He also performed with the
 Baltimore Symphony for their Fourth of July celebration at Oregon Ridge.