Dario Marcellari to Conduct UMBC Symphony in Workshop
September 12, 2018 11:54 AM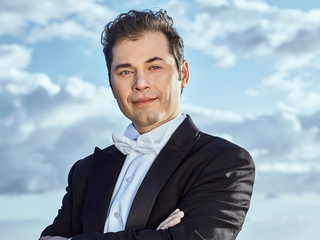 The Department of Music will be joined by Dario Marcellari for a workshop with the UMBC Symphony Orchestra on Tuesday October 8 in the Earl and Darielle Linehan Concert Hall.  He will conduct part of the rehearsal and work on repertoire the orchestra will perform later in the year.
Dario Macellari was born in Rome in 1979. He started his studies in piano performance first at the Conservatory of Perugia and afterwards at the prestigious 'St. Cecilia' College Conservatory in Rome. He has then dedicated his life to the study of orchestra conducting, a discipline in which he has earned his Master of Arts degree at the 'St. Pietro a Majella' Conservatory in Naples. He studied with Francesco Vizioli and Raffaele Napoli. Mr Macellari has also received further training by attending Gianluigi Gelmetti's classes at the 'Accademica Musicale Chigiana' in Siena and Markand Thakar's Conducting Seminars in Baltimore. 
Since 2006, Mr Macellari has conducted chamber orchestras in the Rome area. In 2010 and 2011 he cooperated with the 'La Sapienza' University of Rome leading many notable performances of the MuSa Brass Ensemble and the MuSa Orchestra. Particularly notable was the concert of the 'Musica a Roma nell'Ottocento' project. This was organised by the University's department of History of Music, and Mr Macellari has conducted the 'Diego Carpitella' Choir in works by Mozart, Donizetti, and Liszt, written for choir and strings. 
In 2014 Mr Macellari made his debut in Bulgaria at the Varna Opera House with which he inaugurated a cooperation as a guest conductor that arrives until today. In Italy he worked with the Sanremo Symphony Orchestra and the Roma Tre Orchestra. In 2017, with a production of Verdi's Il trovatore at the Varna Opera House, he inaugurated his commitment in the operatic repertoire.
Bio and picture taken from Mr. Marcellari's
website
.