Music Alum to Present at International Society of Bassists
February 21, 2019 4:11 PM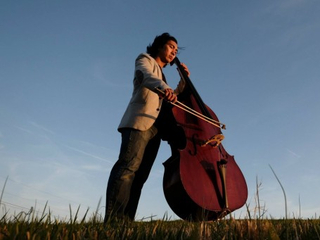 Music Alum and Affiliate Artist Yoshiaki Horiguchi has been selected to present at the International Society of Bassists in June.  He will present an interactive workshop on teaching the George Vance Method of playing the string bass at their convention in Bloomington, Indiana that occurs every two years.  
Congrats to Yoshi on this fantastic opportunity!
---
Yoshiaki Horiguchi has been acclaimed by the Baltimore Sun for his ability to perform with a "dazzling display of dexterity and panache." Yoshi is an active double bassist, pedagogue, and educator in the DC-Baltimore area. His endeavors span across a broad spectrum of genres having performed with the National Philharmonic, Baltimore Boom Bap Society, Classical Revolution, Great Noise Ensemble and more.




In addition to being an active performer, Yoshi is an educator, pedagogue, and adjudicator. He has served on the faculty for the Baltimore Symphony's, El Sistema inspired, ORCHkids program, Bass Works, the Peabody Preparatory, American Music Camps, York College of PA, UMBC, and more. 




Yoshi graduated as a Linehan Artist Scholar at the University of Maryland, Baltimore County where he won the 2011 concerto competition. He then graduated as an Aegon USA scholar at the Peabody Conservatory at the Johns Hopkins University for his Master's Degree in double bass performance and pedagogy and is currently pursuing his D.M.A. at Peabody. 




Yoshihas attended the Hot Springs Music Festival, National Music Festival, and Imani Winds Chamber Music Festival. Yoshi proudly hails from the studios of Ed

Malaga, Jeff Koczela, Laura Ruas, Paul DeNola, and Paul Johnson.