Brian J. Wesol Estate Gift to Department of Music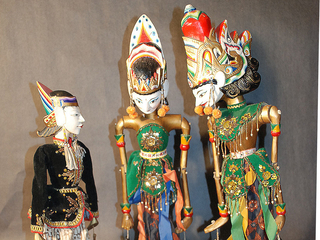 The estate of Brian J. Wesol has graciously donated to the UMBC Department of Music a gift of Indonesian instruments, puppets, and decorative arts. Brian Wesol, an attorney who practiced law in the U.S., as well as in Singapore and Indonesia had a passion for world travel and collecting art and artifacts from his travels. Some of the donated instruments were recently used in the Fall 2018 gamelan concert, with some of the decorative arts on display adding to
the ambience of the event.
The Department of Music has in its possession two unique gamelan from Central Java and Bali.  
Playing gamelan music is a communal art form and requires one to pay attention to the music of the whole group. 
 Membership in the gamelan is open to any student, music major or non-major.  
For more information, contact Gina Beck (
gbeck1@umbc.edu
).