Lisa Cella Receives Grant for The Low Flutes Project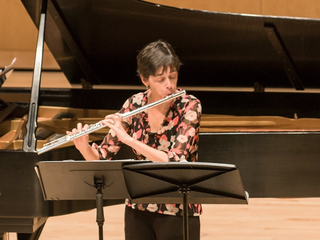 Lisa Cella has been awarded a grant from New Music USA to fund The Low Flutes Project, a series of commissioned works for alto and bass flute. Cella describes her project below:
I am drawn not only to the beauty of the instruments embodied in their core tone, but their seemingly endless capacity to create sound worlds that extend their technical and expressive capabilities.  The Low Flutes Project seeks to find and create new works that shatter boundaries in sound and technique.  Through commissioning, performing, and recording, I will add my voice to the body of repertoire, helping to inspire the new generation of composers to explore deeply these two instruments that have captured my passion.
My project will span two years to allow for the creation of new works and preparation for recording.   For the premieres, I have a ready audience with the organizations of which I am a member: UMBC, Nief Norf Festival, SoundON Festival, and the soundSCAPE Composition and Performance Exchange Festival.  I will submit proposals to the major flute gatherings, embark on a concert tour, and record.  In this way, my project  will reach not only composers and performers of contemporary music, but a large general audience and culminate in the release of a CD.
To read the full story, click here.