B.A. in Music Education (Choral)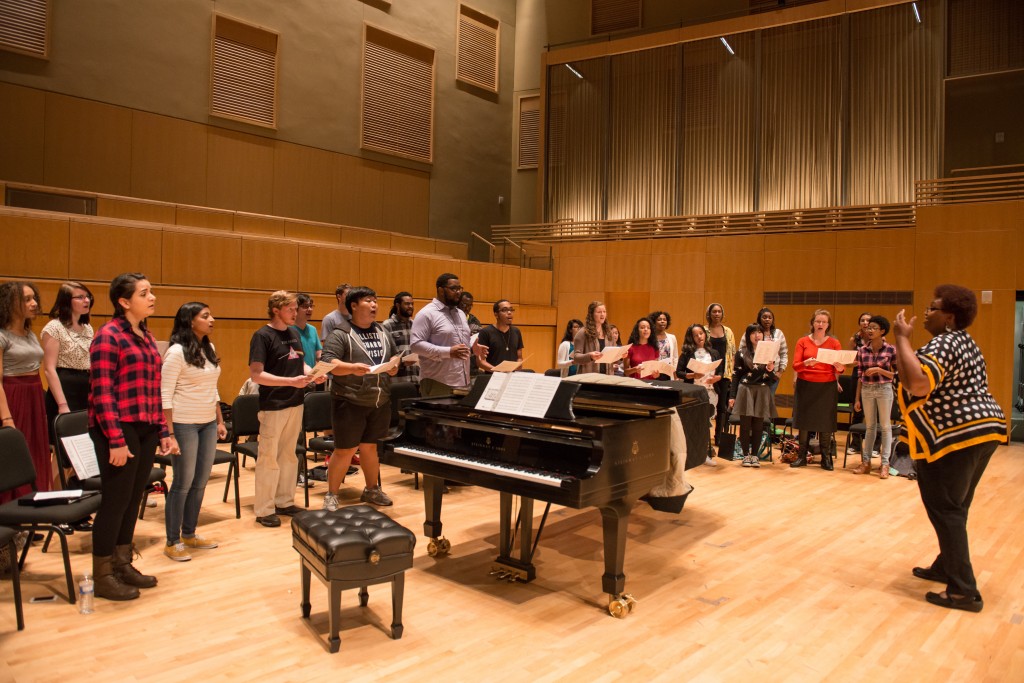 Students in the Choral Music Education major receive a solid grounding in educational and pedagogical skills, and music theory and history, preparing them for vocation in teaching and/or further graduate studies in the area of music education.
Through field observations and hands-on teaching experiences, the students will receive clear guidance to develop their own teaching skills and philosophies. Students are encouraged to take the teacher certification exam during their course of studies at UMBC, though are not required to do so. The degree uniquely combines courses from both the music and the education departments to provide a comprehensive overview of theories and practices in both fields. Faculty specializations include studio teaching, aesthetic education and extensive outreach activities. Special opportunities exist in the form of internships and fellowships.
Faculty

---
Sandra Adkins, M. A., K-12 Choral Methods
Janice Jackson, M.M., Vocal Methods
Dr. Stephen Caracciolo, D.M., Conducting
Brian Kaufman, M.M., Conducting
Airi Yoshioka, D.M.A., Arts in Education
Core Music B.A. Requirements
---
Music Theory

Catalog Number

Course Name

MUSC 125
Theory I: Basics of Music [3]
MUSC 126
Theory II: Harmony and Voice Leading [3]
MUSC 225
Theory III: Counterpoint [3]
MUSC 226
Theory IV: Expanded Harmony [3]

Musicianship Lab

MUSC 110
Musicianship Lab [1]
MUSC 111
Musicianship Lab II [1]
MUSC 210
Musicianship Lab III [1]
MUSC 211
Musicianship Lab IV [1]
A grade of "B" or better is required for MUSC 211

Keyboard Skills

MUSC 178-A
Beginning Keyboard Skills Class [1]
MUSC 178-B
Beginning Keyboard Skills Class [1]
MUSC 179-A
Intermediate Keyboard Skills Class [1]
MUSC 179-B
Intermediate Keyboard Skills Class [1]
Or demonstrated piano proficiency.
A grade of "B" or better is required for MUSC 179-B.

MUSC 191/193

Three semesters of MUSC 191 – Recital Preparation [3]
MUSC 193
Performance Studies for Music Majors – Six semesters of individual performance studies at 3 credits each [18]

Music History

MUSC 230
Musics of the World [3]
MUSC 321
Music History I [3]
MUSC 322
Music History II [3]

Conducting

MUSC 380
Introduction to Conducting [3]

Ensembles

MUSC 300-310
Ensembles – Six semesters of ensemble participation [12]

Upper Division Classes

MUSC 480
Music, Art and Society [3]
Or
MUSC 485
Selected Topics in Music History [3]
One elective – upper level, in Music or VPA [3]Note: Performance majors are required to take as their upper-level elective core requirement either MUSC 362: Arts in Education or MUSC 400 Special Projects in Pedagogy.
Core Choral Music Education Requirements
---
In addition to the core courses listed above, students must complete the following core requirements.
Note: Students interested in completing certification requirements for music education also must apply for acceptance into the education department and complete coursework in education as required by the State of Maryland. Please contact the UMBC Department of Education for details and requirements.
Choral Education Major

Catalog Number

Course Name

MUSC 174
Beginning Vocal Methods [1]
MUSC 175
Intermediate Vocal Methods [1]
MUSC 189
Guitar Class [1]
MUSC 224
Instrumentation [3]
MUSC 261
Teaching Choral Singing [3]
MUSC 360
Seminar in K-12 Choral Methods [3]
MUSC 385
Intermediate Conducting [3]