B.A. in Music Education (Instrumental)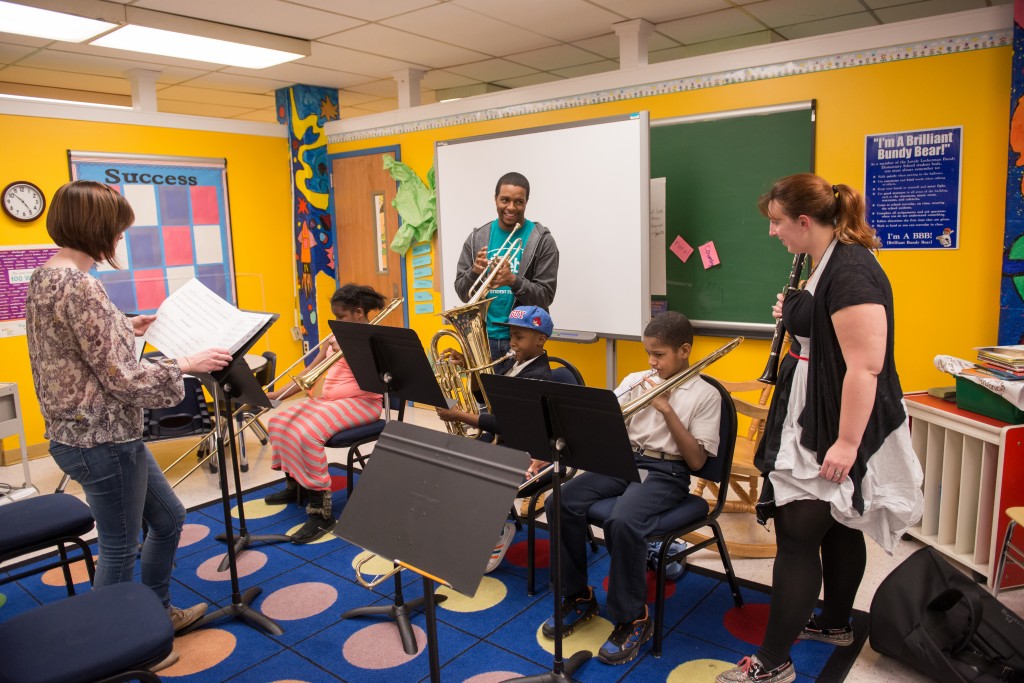 Rooted in the belief that we learn the most through hands-on experience, UMBC instrumental music education majors gain six semesters of classroom teaching, including a weekly service-learning internship during their 1st and 2nd years in the program. UMBC music educators work with students at local schools, which includes time in the Baltimore Symphony's OrchKids program. The real-world work experience allows UMBC students to positively contribute to the community while taking on opportunities such as side-by-side rehearsal with Baltimore Symphony members and clinics with major guest artists like Tony award winner Brian Stokes Mitchell. In their final year, aspiring music educators are placed in an area school; the year begins with observation and gradually expands to a full-time teaching internship.
In addition to our exceptional faculty who are all practicing teachers and active performers, students are exposed throughout the degree program to many top thinkers in the fields of music and education; recent guest speakers include leaders from major institutions including the U.S. Department of Education, International Society for Music Education, Carnegie Hall, NPR's from the Top, and Americans for the Arts. Program graduates are currently employed as teachers in counties across the state of Maryland and beyond including recent graduates in California and South Korea.
Faculty
---
Nancy Beith, M.M., Class Piano
Wayne Cameron, M.M. Brass Methods
Tom Goldstein, M.M., Percussion Methods
Brian Kaufman, M.M., Conducting, K-12 Instrumental Methods
Daniel Puckett, M.M., Woodwind Methods
Nana Vaughn, M.A.T., String Methods
Airi Yoshioka, D.M.A., Arts in Education
Jonathan Zwi, M.M., Guitar
Core Music B.A. Requirements
---
Music Theory

Catalog Number

Course Name

MUSC 125
Theory I: Basics of Music [3]
MUSC 126
Theory II: Harmony and Voice Leading [3]
MUSC 225
Theory III: Counterpoint [3]
MUSC 226
Theory IV: Expanded Harmony [3]

Musicianship Lab

MUSC 110
Musicianship Lab [1]
MUSC 111
Musicianship Lab II [1]
MUSC 210
Musicianship Lab III [1]
MUSC 211
Musicianship Lab IV [1]
A grade of "B" or better is required for MUSC 211

Keyboard Skills

MUSC 178-A
Beginning Keyboard Skills Class [1]
MUSC 178-B
Beginning Keyboard Skills Class [1]
MUSC 179-A
Intermediate Keyboard Skills Class [1]
MUSC 179-B
Intermediate Keyboard Skills Class [1]
Or demonstrated piano proficiency.
A grade of "B" or better is required for MUSC 179-B.

MUSC 191/193

Three semesters of MUSC 191 – Recital Preparation [3]
MUSC 193
Performance Studies for Music Majors – Six semesters of individual performance studies at 3 credits each [18]

Music History

MUSC 230
Musics of the World [3]
MUSC 321
Music History I [3]
MUSC 322
Music History II [3]

Conducting

MUSC 380
Introduction to Conducting [3]
MUSC 385
Intermediate Conducting [3]

Ensembles

MUSC 300-310
Ensembles – Six semesters of ensemble participation [12]

Upper Division Classes

MUSC 362
Arts in Education [3]
One elective – upper level, in Music or VPA [3]Note: Performance majors are required to take as their upper-level elective core requirement either MUSC 362: Arts in Education or MUSC 400 Special Projects in Pedagogy.
Core Instrumental Music Education Requirements
---
In addition to the core courses listed above, students must complete the following core requirements.
Note: In the junior year, students apply for acceptance into the education department and complete coursework in education as required by the State of Maryland for K-12 certification. Education department course details can be found at: http://education.umbc.edu/files/2013/07/UG-Secondary-MusicInstr.pdf
Instrumental Education Major

Catalog Number

Course Name

MUSC 182
Beginning Strings[1]
MUSC 184
Beginning Woodwinds [1]
MUSC 186
Beginning Brass [1]
MUSC 183
Intermediate Strings[1]
MUSC 185
Intermediate Woodwinds [1]
MUSC 187
Intermediate Brass [1]
MUSC 188
Percussion Class [1]
MUSC 189
Guitar Class [1]
MUSC 224
Instrumentation [3]
MUSC 361
Seminar in K-12 Instrumental Methods [3]